SA's supercomputer ranks 121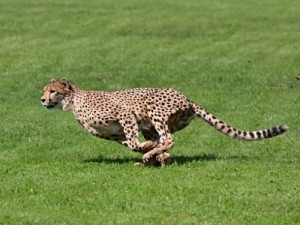 The Centre for High Performance Computing's (CHPC's) newly-launched petascale machine, Lengau (Setswana for cheetah), received international recognition this week by being placed 121st on the computing TOP500 List at the International Supercomputing Conference in Frankfurt, Germany.
The 40 000-core one petaflop Lengau system, which was unveiled this month, is the fastest computer on the African continent. It is designed to open new research avenues and stimulate private-sector projects.
With over 24 000 cores, the machine boasts speed of roughly one petaflop (1 000 teraflops), which is 15 times faster than the previous system named Tsessebe (Setswana for antelope).
SA last entered the TOP500 List following an upgrade of Tsessebe in 2013 and featured at position 311. Tsessebe ran at 64.44 teraflops.
Lengau is a supercomputer with processing speed capable of a thousand-trillion floating point operations per second. Floating point operations or flops are used in computing to calculate extremely long numbers.
The TOP500 List ranks the computers according to their performance on the Linpack benchmark which measures a system's floating point computing power.
Lengau puts the country in the company of leading supercomputing nations. It is the only system in Africa featuring on the TOP500 List and is the second fastest supercomputer in the southern hemisphere.
"This prestigious international accolade demonstrates that Africa's first petascale supercomputer is ready to accelerate applications that run on it, a boost for Africa's research and industrial competitiveness," says Dr Happy Sithole, director at the CHPC.
China maintained its number one ranking on the 47th edition of the TOP500 list. The Sunway TaihuLight is the number one system with 93 petaflop/s (quadrillions of calculations per second) on the Linpack benchmark.
Sunway TaihuLight displaces Tianhe-2, an Intel-based Chinese supercomputer that claimed the number one spot on the past six TOP500 lists.
Sunway TaihuLight, with 10 649 600 computing cores comprising 40 960 nodes, is twice as fast and three times as efficient as Tianhe-2, which posted a Linpack performance of 33.86 petaflop/s.
Rounding out the top 10 are Sequoia, an IBM BlueGene/Q system; Fujitsu's K computer; Mira, a BlueGene/Q system installed at the Argonne National Laboratory; Trinity, a Cray X40 system; Piz Daint, a Cray XC30 system; Hazel Hen, a Cray XC40 system; and Shaheen II, a Cray XC40 system is at number 10.