"I'm not retiring"
Rob Abraham's plans after Bytes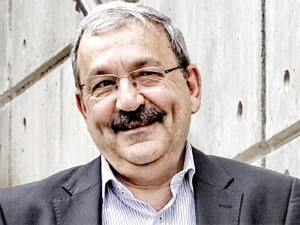 When CEO Rob Abraham starts talking to his executives at Bytes Technology, I'm surprisingly impressed.
He's telling them how well the company has done although he's not performing to the media or shareholders, he's passionate and genuine, really believing that his company is something special. It's quite touching, especially since Abraham is about to retire after a lifetime in IT and 17 years with Bytes, which is part of the Altron group.
When I say I want to interview him before he goes, he gets a little defensive. "I'm retiring from Altron, I'm not retiring," he says. "I'm retiring from this job, but I'm going to be working, hopefully." He's actually reticent to be interviewed at all, describing himself as a conservative introvert.
He'll be 63 when he steps down in February, and he aims to make sure his knowledge isn't lost, just redirected. He plans to start his own company, using the internet as an enabler to help individuals and businesses do better work. "I've always wanted to start my own business, but haven't gotten around to doing it. We have lots of educated people who don't have the ability to find work and promote themselves because they don't know how. There's a huge opportunity to help people reach their dreams," he says.
When I fish for more details, he clams up. "I have a plan that I'm not going to share with you because if I don't do it, I don't want to be embarrassed," he says. "Professional services, if I have to put a name to it. I hate the word consultant because I've detested those people all my life. They take your money and tell you what you already know."
But first he plans to take a sabbatical. "There's a bunch of places I want to visit in southern Africa. I want to spend time in the swamps in Botswana and look at the Namaqua daisies and hang around there for a while, and I think I could do that well." It seems unlikely that he'll do it for long, however, because he's a workaholic.
He also plans to spend more time with his four children and four grandchildren, getting to know them better. "My oldest grandson is seven and I love being with him and going to his soccer games," he says. A lack of work-life balance kept him away from his own kids' soccer games, he admits, and you get the sense he's anxious to make up for that.
He's also likely to invest in some startup ventures, which will be extremely valuable for them if he contributes his experience as well as his money. "I've been involved in many startups in my career. A lot of them have been failures and they have been lessons. A lot of them have been successful and I know why they have been successful, so there's a lot of opportunity to participate in businesses with small equity stakes."
Starting from scratch
Abraham was born in the Free State and planned to go to university, but when his father died, he needed to earn money for the family. He took a job with Olivetti, selling accounting machines. "They put me on a training programme and I excelled," he recalls. He discovered he was a natural salesman, and his plans for university were abandoned. He regrets that now, but he has continually broadened his knowledge through numerous training courses and by reading avidly.
Leaders must know when it's time to move on.
He stayed at Olivetti for 20 years and rose through the ranks. Later, his skills as a salesman translated naturally into running a business. "It's the same skills. It's who you are as a person. If you're a poephol, nobody likes you. If you're perpetually doing things that others don't appreciate, people will avoid you. It comes back to the way you engage with others. I like the words trust, respect, honesty, hard work and recognition."
You obviously have to understand business fundamentals too, he says, including building and empowering a team of people you trust and respect and who share the same values. "Don't employ incompetent, incapable people. You have to employ the best people - that's lesson number one."
Most respected
When Abraham took over as Bytes CEO fi ve years ago, he took his team for a biblical-sounding bosberaad in the mountains. "I can remember it as if it was yesterday. I said we are going to be the largest and most respected IT company on the continent and we have to do it before I retire, and that was what we decided when we came down the mountain."
The whole purpose of Bytes is to help its customers do great work by providing solutions from the world's leading technology vendors, he says. "Our success isn't through innovations or marketing campaigns, it relies on listening to the customer and bringing a solution back to the customer. It's great to know that when I took over, we were nearly a R5 billion organisation and now it's twice that size."
Now it's time to hand over to someone else. "Leaders must know when it's time to move on. If I'm here for six or seven more years, my contribution will be lessening. If you stay any longer, the sad state of our nature as human beings kicks in. You take things for granted," he says.
Success in business demands momentum in an organisation, some change agents and new frontiers to cross, he believes. "If you stay in the job, you become more conservative. There's a place for gung-ho and I'm not good at gung-ho."
This article was first published in the [February 2016] edition of ITWeb Brainstorm magazine. To read more, go to the Brainstorm website.