Delivering enterprise-grade unified communications to small businesses
Far South Networks' Wanderbox is an affordable and easy to install communications solution.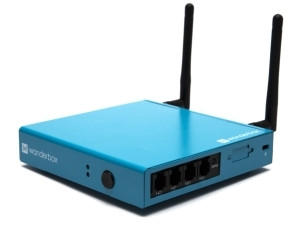 A leader in the delivery of the next generation of telephony, Far South Networks, a local designer and manufacturer of IP telephony platforms, is renowned for offering feature rich systems that enable end-users to be connected anywhere at low cost and low risk.
In keeping with its reputation, the company has now announced the launch of the Wanderbox, a unified communications (UC) device designed to provide enterprise level services to small and medium businesses.
When it comes to UC, small businesses require something that is easy to use and just as simple and quick to install, suggests Grant Broomhall, MD of Far South Networks.
"This is exactly the value package that Wanderbox offers: a quick and easy install, thanks to the infrastructure being provided by the device, which is secure and can easily be configured to your organisation's requirements. Connectivity provided by the device includes LAN, WiFi, 4 telephony ports, USB and an optional 3G/LTE modem." he says.
For the business user, explains Broomhall, the Wanderbox is a low-cost device that integrates between a business' existing communications infrastructure and its new generation services. It can serve as a gateway to the Internet of things (IoT) and offers users resilient services, even over constrained networks.
"And of course, unlike competing solutions, Wanderbox - like all our systems - is designed and manufactured in South Africa, for South African conditions, using open standards and open architectures."
"In addition, users also gain access to our cloud-based Wanderweb service, thereby delivering an unbeatable, all-in-one value package for the small business owner," says Broomhall.
Most importantly, he continues, Wanderweb provides enterprise-grade UC features and delivers true mobility to SMEs. Through Wanderweb, users remain connected to the business via an available Internet connection, thus delivering a 'bring your own device' environment. This further reduces the businesses upfront capex investment.
"A lot of competing providers talk of 'hosted solutions'. However, these inevitably involve additional costs like investing in expensive IP phones on your desk, or simply the cost of getting experts out to install the solution for you. That doesn't even take into account scenarios such as a sudden bandwidth decrease causing a bottleneck in the system. I do not believe there is any way to deliver a hosted service with the same degree of quality as you can with an on-site solution."
Broomhall adds that not only does the Wanderbox sit on-site, but it is so easy to install that users are able to do it themselves. The benefits are vast, as together with the Wanderweb service, users have a single contact number and a range of UC services, including Hi-Definition Voice, Instant Messaging and Presence, all with unparalleled quality and security backing it up.
"Ultimately, Wanderbox means that whatever your business, you are always connected. In today's 24/7 business world, being connected anywhere, at any time and via any device means that wherever you are, you can effectively always carry your business desktop in your pocket - and that means that small businesses can now compete on a much more equal footing with their larger competitors," concludes Broomhall.