2014: Year of the enterprise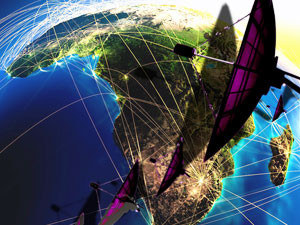 ICT research firm International Data Corporation (IDC) has called 2014 the "year of the enterprise", as it outlined top expectations in Africa's telecoms market.
The firm has compiled an annual list of its most anticipated predictions for the market and says telecoms service providers will re-strategise in response to pressure on consumer revenues.
Spiwe Chireka, senior telecoms analyst at IDC, says telecoms companies are expected to add IT services to their portfolios as they seek to reposition themselves in a competitive market. "The next best alternative for telecoms service providers to counter shrinking consumer revenue and profitability lies partly in IT telecoms convergence," she says.
Government policies will be key in increasing connectivity in rural areas, but the IDC notes some African nations are likely to partner with telecoms companies to meet service delivery mandates.
The IDC's top 10 predictions for the African telecoms market are as follows:
1. Enterprise mobility holds promise, but growth is yet to materialise
The IDC's research indicates half of African enterprises will have an enterprise mobility strategy within the next 18 months, but connectivity costs are a concern for CIOs. Building new applications and security concerns could mean some companies will hesitate with mobility, according to Chireka.
2. The lines between IT and telecoms services will become increasingly blurred
Telecoms companies will increase investment in their IT capabilities and enhance their capacity to primarily support the enterprise segment, according to the IDC. Those already pursuing IT strategies are expected to increase capital expenditure towards building on their technological capabilities.
3. 'Verticalisation' will be a key differentiator in 2014
The IDC says telecoms service providers will look into "vertical" services - those which target specific business needs instead of the much broader traditional approach. Chireka says 'verticalisation' will see companies offer "services which tie into specific industry requirements".
4. Fibre strategies will move from backhaul/backbone to FTTx
Fibre-optic cables are expected to move from "backbone" network support mechanisms to adopt fibre to the home (FTTx) or business as demand grows for enterprise connectivity. "Most of our networks are unable to support the degree of connectivity required so fibre presents the next best solutions for telecoms providers to address demand for connectivity," says Chireka.
5. A shift in business models will see operators transform into multi-sector operators
The 'verticalisation' process will allow telecoms providers to offer tailored solutions across a range of sectors, including retail, finance, health and education. Operators will be "drawn out of their comfort zones" in order to achieve this.
6. Greater rural connectivity will become a reality in 2014
Connectivity will be enhanced by an increase of low-cost devices in the market, progressive ICT policies for national governments while saturated urban markets will drive operators towards new customer segments in search of revenue.
7. Governments will become important "customers" of telcos in Africa
Increased investment in ICT services by regional governments presents strong business opportunities for telecoms providers in Africa this year. Rwanda, Kenya and Senegal are among the nations whose ICT strategies are likely to develop links with telecoms service companies.
8. The role of telecoms in the IT-telecoms convergence space will change from foe to friend
IT service companies and telecoms providers will work in a complementary rather than competitive manner. IT companies will be able build the reputation and technical capabilities of telecoms companies, according to the IDC.
9. Market consolidation will increase in 2014
An increasingly crowded telecoms market, coupled with scarce and expensive network resources, will drive smaller operators being acquired by their larger counterparts and SA is likely to be the first market to see large-scale consolidation.
10. Nigerian and SA markets will remain ripe, but not for consumer services
In SA, the business environment is becoming difficult and newer operators have struggled to establish a strong presence. Enterprise services are competitive and this will continue to develop. Nigeria provides room for new players to enter the market, according to the IDC, and remains one of the largest markets in terms of GDP and enterprise expenditure.