Age of engagement in focus at Informatica World Tour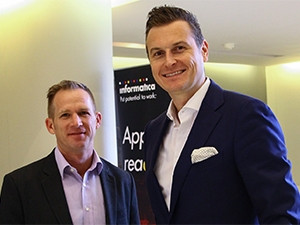 Informatica Corporation's World Tour arrived in Johannesburg this week, with a focus on the evolution from the age of productivity to the age of engagement.
Noting that data is now the life blood of business, speakers said in an age of engagement, organisations would streamline processes through real-time collaboration and decision-making. "These are exciting times for data," said Ben Rund, Informatica's senior director for information solutions product marketing.
"Innovators like Uber - which owns no taxis, Facebook - which produces no content, Alibaba - which has no owned inventory, and Airbnb - which has no owned real estate, all understand the value of information and the connectivity between information and data. They are using the tremendous potential of information and disrupting today's markets."
Rund noted connectivity and IOT were exponentially increasing the amount of data being generated: "We are all connected to everybody, everything is connected to everything, and everybody is connected to everything. All our interactions across our devices are leaving a digital footprint. There is so much information being captured about what I am, where I am, right down to what is the temperature. Social interactions indicate the upcoming trends. There is huge potential for this big data, which is captured everywhere."
He noted this information had to be used effectively to underpin better customer experience in future. "The majority of top-line executives consider data to be strategic for their companies, but only a small percent believe they are able to use information strategically or better than their competition in the market." The focus was changing from ownership to access, he said, with it becoming increasingly important to ensure the right people had access to the relevant information when they needed it.
The age of engagement with big connectivity of all information is becoming increasingly complex, with growing numbers of data sources and data consumers, such as devices and applications, said Rund. "The trouble with it is that it is often fragmented in silos, dirty and insecure. That is requiring a new way to deal with data."
He highlighted Informatica's upcoming launch of Project Sonoma, an 'Amazon platform for data' to manage and govern big data more effectively and help businesses predict the next best actions based on data. "We are building a data intelligence layer that will connect Informatica infrastructure, metadata and machine learning," said Rund. He also previewed innovations set to launch soon, such as Informatica Rev, Secure@Source, and the master data-fuelled applications Supplier 360, Product 360 and Customer 360, in line with Informatica's focus on the strategic areas of big data, cloud, information security and business-critical master data management (MDM).
Speakers at the event also addressed mastering the digital transformation, lowering risk for application consolidation and migration projects, and the journey to the cloud.
Missed the Informatica World Tour 2015 in Johannesburg? No worries - please e-mail : info-za@informatica.com to learn more or get a copy of the presentations from the event.