Cashless commerce
It's been said that we're heading for a cash-less society. Could Stellenbosch start-up Gust Pay turn out to be the wallet-killer we've all been waiting for?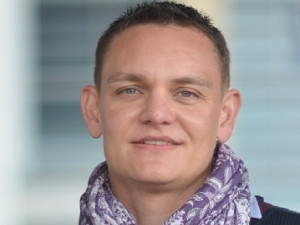 Gust Pay is a quick and easy payment system for smartphones that can be used for in-store and event payments. It works when two devices are close to each other, and unlike other payment systems that use geo-fencing logic, Gust Pay doesn't rely on a GPS device or even a GSM connection to establish its virtual perimeter to secure the transaction.
All Gust Pay needs is a WiFi connection, and your name and photo to make a payment to anyone on the same WiFi network. The merchant and purchase devices discover each other using this basic information and, because all communication happens over WiFi, the payment process is really quick.
Gust Pay is the smartphone version of the application and can be used on iOS or Android phones. Gust PayPoint is its merchant counterpart that turns an iPad into a touch-screen point-of-sale system for accepting smartphone payments. Connecting the two is Gust Find, a directory app that allows users to locate stores that accept Gust Pay and allows merchants to get customers through the door by enticing them with special deals.
"The idea with Gust Pay was to design a quick and reliable mobile payment system that wasn't dependent on NFC," says Joe Botha, one of the founders of Gust Pay. "We needed a big customer for our other start-up, Trust Fabric (a consumer-centric set of tools that allows the user to manage and secure their personal information and relationship with business entities), so we built Gust Pay."
User experience
In early 2012, Gust Pay went on trial in Stellenbosch, looking into the geo-fenced payment experience. A mere six weeks later, the small team had built the Alpha version of the smartphone application. As part of their Beta program, Gust Pay invited merchants in Cape Town and Stellenbosch to be their guinea pigs and installed a WiFi hotspot and an iPad with a casing and key lock at each merchant's shop.
Justifying Gust Pay's focus on the smartphone market, Botha explains: "Most mobile payment systems fixate on the lowest common denominator idea but we've focused on a good user experience. This is a tool that fits into the lifestyle of our users.
"Users pay with their name, two taps and a swipe. We like to think this fosters a natural sense of loyalty and builds better relationships between store owners and their regular customers."
Demand for mobile
Discussing the potential for Gust Pay in the retail and hospitality sectors, Botha says customers and merchants require new ways to connect in response to the demand for mobile payment options in the commerce arena. "Gust Pay handles the entire purchasing cycle," he explains. "Our Pay Point Dashboard lets a merchant configure a special, which can be found by customers through Gust Finder, which then navigates them to that shop. Once inside the shop, the customer uses free in-store WiFi to facilitate the payment."
You no longer need the stress of a wallet full of cash that can be lost or stolen.

Joe Botha, Gust Pay
From a storefront perspective, Gust Pay Point processes mobile payments and offers detailed customer analytics. As part of its back-end facilities, Pay Point offers merchants a Web-based product management system to configure stock items and the ability to create daily specials, which are then pushed to their customers' smartphones using location-aware Gust Finder.
Not only is there a demand for mobile payment options in shops and restaurants, but there's a need for it in large-scale public events as well. Botha says it's possible to attend a concert without having to queue to get in, or pull out your wallet to pay for a drink at the bar.
"We have in mind a cashless environment where you can manage your wristband tag from your smartphone. Load money on your tag and leave your wallet behind. If the tag gets lost, you can cancel it from your phone. You no longer need the stress of a wallet full of cash that can be lost or stolen," he says.
Having cashless patrons means storekeepers and event operators no longer need to worry about handling large amounts of cash on premises, making them less of a target for crime.
Global interest
When it comes to potential challenges, the narrow focus on smartphones means Gust Pay's market is limited to the 10 million e-commerce-enabled cards currently active locally. This is limited even further by the fact that there are only three million active iOS and Android phones.
But Botha doesn't believe this to be a problem as SA is a big enough market for now that's growing quickly. He also points out that the interest Gust Pay has received from an international audience has made the size of the local market less concerning for their business model.
"We're looking to create a culture of mobile payments," says Botha, "and we've built a payment system that we would want to use."
Whether or not it's something the world will want to use remains to be seen.
First published in the September 2013 issue of ITWeb Brainstorm magazine