UPDATE: No ICASA approval needed for Cell C deal, says Blue Label
Blue Label Telecoms says it does not need approval from the Independent Communications Authority of SA (ICASA) to buy a 45% stake in Cell C, despite ratings agency S&P's recent warning that ICASA could limit Blue Label's use of Cell C's spectrum.
"Uncertainty over which potential buyers could emerge and whether ICASA could restrict spectrum use makes Cell C's spectrum assets difficult to value," S&P said last week when it downgraded Cell C's long-term corporate credit rating from 'SD' (selective default) to 'D' (default) after the mobile network missed an interest payment.
However, Blue Label's head of investor and media relations, Michael Campbell, told ITWeb the group believes this is "factually incorrect" and that neither ICASA's consent nor approval is required for the deal to go ahead. He adds there is no need for Competition Commission approval, as there will be "no change of control at Cell C".
Blue Label intends to buy a 45% stake in Cell C for R5.5 billion as part of a planned recapitalisation of the company. Cell C management and staff will also subscribe for 25% of the issued capital, while the remaining 30% will be held by 3C Telecommunications under the planned restructuring.
Campbell could not provide further details on the deal's progress but said the JSE-listed group plans to revert to the market on its participation in Cell C's recapitalisation by the end of this month.
"In the meantime, the recapitalisation process continues, even if it is proving complex," he said. "For us at [Blue Label], the downgrade has no direct impact on Cell C's underlying business and its operational performance remains strong - as reported in our circular to shareholders late last year."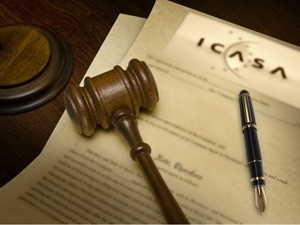 Cell C declined to comment.
Controlling the spectrum
Buying a 45% stake in Cell C is not technically a change of control for the company, but the crux is really whether the stake would constitute a transfer of "control" of a radio frequency spectrum licence ? which would require permission from ICASA.
According to the Blue Label circular published in October 2016, Cell C's mobile network is supported by spectrum allocations in the 900MHz, 1 800MHz and 2 100MHz bands.
The Radio Frequency Spectrum Amendment Regulations 2015 explain the rules surrounding the application to transfer control of a radio frequency spectrum licence. However, as Norton Rose Fulbright associate Edward Odendaal explained in a blog post last year, "transfer of control" is not defined, which makes it difficult to determine in what circumstances ICASA's approval will be required.
"In our view, if any entity acquires the ability to exercise material influence over the strategy of a licensee, approval will be required," Odendaal said.
ICASA did not respond to a number of requests for comment.
Jon Tullett, IDC's research manager for IT services for Africa, says ICASA would have oversight if transfer of spectrum to a different operator were involved, "but even if that isn't the stated case, the regulator would still investigate to ensure everything is above board".
"That may not present a regulatory hurdle to the deal going forward, but may delay the recapitalisation, which could be problematic," he adds.
Richard Hurst, director of enterprise research at Africa Analysis, believes some sort of regulatory approval for the deal will be needed for it to go ahead and points to regulations which govern a change in the BEE equity of the licence-holder.
This was a stumbling block for Huge Group recently when it tried to transfer two licences from its subsidiary Huge Telecom to itself. ICASA did not approve the transfer due to non-compliance with section 9(2)(b) of the Electronic Communications Act, which requires a minimum of 30% equity ownership to be held by persons from historically disadvantaged groups.
Post-recapitalisation, Cell C's current BEE shareholder, CellSAf, will see its shareholding considerably diluted from 25% to around 9%.
Competition clarity
In terms of the Competition Commission, Tullett says like ICASA, the commission will likely investigate to ensure there is clarity on the ownership structure and any possible conflicts.
"That's perfectly normal, and shouldn't present any hurdles in this case. At face value, Blue Label's investment appears not to require approval, but the commission's job is not to take things at face value," explains Tullett.
"I think in this instance, the Competition Commission will investigate whether there is indeed control being exerted over the entity in question and will determine whether this is indirect, direct or the exact nature of the control, if any," adds Hurst.
The Competition Commission did not respond to a request for comment by the time of publication.
The planned recapitalisation of Cell C was announced in December 2015 as a way to help reduce the company's debt and originally it planned to have the restructuring completed by 1 June 2016.
Blue Label originally planned to acquire a 35% stake before upping this to 45% in October 2016.