Ford creates app for efficient assembly line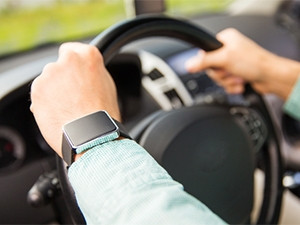 Ford Motor Company has a developed a wearable smartphone app that make its moving assembly line more accurate and efficient.
The company has developed a wearable device, which, when connected to a smartphone app, enables production line workers to make faster and more precise quality checks on new vehicles.
Previously, workers at Ford's manufacturing facility in Valencia, Spain, used a paper-based system that involved walking back and forth more than a kilometre a day to access information on desktop PCs. Now, an Android app means specification and quality checks can be made on the spot using a wrist-worn Portable Quality Assurance Device, and the moving assembly line can be stopped immediately, as needed.
The Bluetooth-enabled device recognises the exact quality inspection requirements for each vehicle that passes along the assembly line. These are displayed on the touchscreen of the wrist-worn device, and team members are then able to instantly follow up and approve. The new system has helped to reduce human error by 7%, while at the same time making each vehicle check seven seconds quicker.
After a successful pilot project in Spain, the company plans to roll-out the wearable device to other plants around the world.
Last month, Ford also opened an Automotive Wearables Experience laboratory at its Research and Innovation Centre, in Michigan. It is working to integrate biometrics from wearable devices with autonomous driving controls.