'Chatbot-first' hype hits SA
Although making some inroads into the South African market, chatbot technology is still in its infancy as a customer communication channel.
This is the view expressed by local industry players and analysts, who, however, point out there is a flurry of excitement over chatbots.
A chatbot is a computer program designed to simulate conversation with human users, especially over the Internet.
Pypestream, a New York-based enterprise mobile messaging company, believes it can crack the local chatbot market following the conclusion of a partnership deal with Discovery Health, one of the region's largest healthcare providers. Discovery Health is using Pypestream's network of chatbots to streamline customer communication and improve customer service.
The other early adopter of the technology in SA is car manufacturer Mercedes Benz which, a few weeks ago, claimed it became the first automotive brand in the country to introduce Facebook Messenger Chatbot to its customers and potential clients.
In April, Barclays Africa Group's subsidiary Absa Bank announced plans to pilot a chatbot, claiming to be first bank to do so in Africa.
Chat obsession
Facebook launched its Messenger Chatbot functionality for businesses in April. It allows brands to provide a natural language interface with consumers at scale. The platform also creates a direct, customised touchpoint between the brand and users, and drives brand interaction with current and prospective customers.
"Although the first computer chatbot, Eliza, was written between 1964 and 1966 by Joseph Weizenbaum from MIT University, intelligent automation by way of chatbots has only recently started to come to the fore in mainstream use," says Darryl Marcus, who was recently appointed by Pypestream as general manager to drive the company's local strategy, business development and revenue generation in the Southern African region.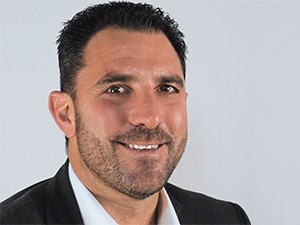 "This is clearly being driven by consumers' obsession with chat which continues to explode. There are nearly four billion global active users of messaging apps and the top five most frequently used apps in the world are all messaging apps," Marcus says.
In parallel, and what can only be described as the 'perfect storm', he says companies globally are striving to drive efficiencies by resolving high volume of inquiries at scale, cut customer communication costs and deliver big on customer experience by using artificial intelligence technologies to drive intelligent automation and self-service.
"It is safe to say that today chatbot technology is in its infancy in SA with only a handful of early adopters launching chatbots into mainstream use," Marcus notes.
Chatbot zero
Arthur Goldstuck, World Wide Worx MD, concurs, saying chatbots are not yet in widespread use in SA.
"The best evidence for how much of an early-stage market it represents is that the launch of almost any sector-specific chatbot is typically still positioned as a first in that sector, such as Mercedes-Benz announcing the first automotive chatbot in South Africa a few weeks ago."
According to Goldstuck, chatbots at this stage offer mainly novelty value, but if the technology can incorporate machine-learning, meaning it learns from every interaction, upping its game as it goes, it will represent a powerful knowledge base on which customers can draw.
However, he says the main limitations of chatbots are that they can only feed back what has been fed into them. "They cannot make decisions, and they cannot resolve complex queries."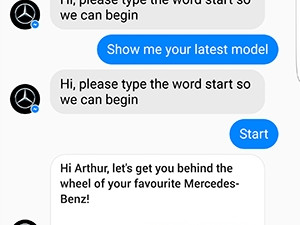 Goldstuck, who tested the recently-launched Mercedes Benz chatbot, says: "Essentially, it's a one-function bot, and even that function doesn't work. After requesting a test ride, and giving my e-mail address and contact number as requested, it again asked me to type 'start' to begin the conversation. In other words, it is neither chat nor bot.
"In effect, we're still at chatbot zero in South Africa, and there is no enthusiasm for it from either customers or businesses in general. We can expect the banks to be the first to adopt it industry-wide, but it would also be a great marketing tool for the likes of retailers, sports teams and even political parties. It would be pretty easy to programme a chatbot to be indistinguishable from Jacob Zuma, Julius Malema or Helen ZIlle, although more nuanced politicians would prefer the bots to represent the parties as a whole."
Marcus also notes that to date, experiences with chatbots have sometimes failed to meet expectations. "Often conversations with bots can lack flow, feel clunky and they may fail to resolve the central issues at hand. While chatbots are still in their infancy, it's important to understand their strengths, best practices for implementation, as well as their potential limitations."
Streamlining conversations
Dion Chang, CEO of Flux Trends, says chatbots are becoming more and more prolific. He notes chatbots are currently being "employed" in areas like customer service on e-commerce platforms where questions are asked frequently and repeatedly, and where standard replies need to be appropriate and informative, like in the frequently asked questions section on many Web sites.
He believes that soon their greatest impact will be on call centres. The chatbot will funnel and streamline conversations, making call centres more efficient, and, as a result, customer service will be more responsive, says Chang.
However, he notes the downside of chatbot technology is that it will reduce the number of people a call centre employs.