The Ubuntu Technologies and Nimble Storage (now a HPE company) story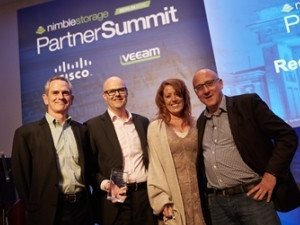 Ubuntu Technologies celebrates two years providing solutions based on Nimble Storage as the only Silver Partner in South Africa.
A journey started in Barcelona, at VMworld, in October 2013.
Ubuntu Technologies was in Barcelona to receive an award from VMware as the "Rising Star of the Year for EMEA" and was walking through the various partner exhibitions that spring up around the show at the time, when it came across a relatively unknown start-up storage solutions company by the name of Nimble Storage. After having listened to its story, it came away impressed, but not really sure what to believe and if the claims it was making were for real, or if they just had a really good marketing team? South Africans are by nature a naturally suspicious people.
Move forward to 2015 and a further meeting with Nimble but this time in SA and with its local distributor. Good news is it now has a local footprint for spares and support, and Ubuntu is ready to start discussions in earnest. It now wants to test its claims and find a client who is willing to take the step of being the first client in South Africa to move from the "tired-and-tested" storage vendors to the Next-Generation Storage Vendors. Thankfully it finds one in the automotive industry who is willing to POC Nimble and who give the product a thorough testing in conjunction with its engineers. The feedback is brilliant and all the claims are confirmed and not more than 30 days after the POC it has the first happy Nimble Storage customer in South Africa.
And the rest they say is history...or is it?
Having sold and implemented every Nimble Storage Array in South Africa Ubuntu Technologies has had the pleasure of dealing with many happy clients, clients whose faith in the Predictive Analytics and CPU-centric storage architecture has proved without a doubt that the old way of doing storage is gone, old and outdated, just like VHS and cassettes.
Our clients vary from a JSE-Listed Property company, Mining Institutes, Technology Agencies, Insurance and Legal, as well as a well-known software company that affects most employers and employees lives on a monthly basis. In fact more than 20 clients over the last 16 months have made the move from their legacy storage platforms reaping the benefits of:
* Reduced Capex costs of between 30-50%;
* Reduced server room footprint;
* Ease of use;
* Predictive Analytics;
* Improved utilisation rates; and
* Granular visibility into Virtual server farms and per-VM analytics.
Every day Ubuntu Technologies sees more clients who are looking to stop doing the same old thing like they have for the last 15 years and who are embracing change in their storage environments.
In May 2016 Ubuntu Technologies were privileged to receive an award from Nimble Storage in Berlin as the "Partner of the Year" for MEA.
With the recent acquisition of Nimble Storage by HPE making headlines, it is good to get the additional validation that the technology Ubuntu Technologies has been focusing on and providing to its clients is world class (not just Gartner telling us).
A technology that good, that a large company such as HPE is willing to purchase it, not long after they has bought a competitive company offering HCI technologies and with a storage platform such as 3PAR in its stable.
I'm sure by now everyone has heard about Nimble Storage being bought by HPE and yes I am sure the eventually your usual HP partners will be able to assist you but why not come talk to the company that launched Nimble Storage in South Africa, has a track record with the product, the skills to size and implement it and many reference-able clients that you can talk to and that believed in the product long before the rest of the market jumped on the bandwagon?
Contact Ubuntu Technologies to see how it can assist you?