SA companies waste billions on cellphone bills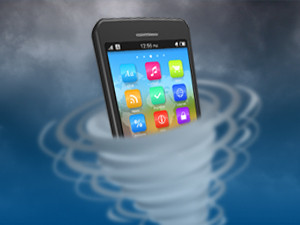 South African companies are wasting more than R3 billion a year by overspending on cellphone bills.
This is according to cellphone bill-optimisation company Tariffic, which has released new figures on mobile corporate spend in SA.
"When looking at the tens of thousands of contracts analysed by Tariffic, we have found we can save on average about R280 per contract per month just by ensuring each employee is on the correct package," says Tariffic CTO Nicholas Botes.
He says for a company with 500 contracts that is an average saving of R1.68 million.
Tariffic CEO Antony Seeff says more and more companies tell him they find it impossible to manage their company spend, abuse and upgrades when it comes to mobile contracts. Key areas of concern are out-of-bundle spending and unnecessary extra costs added on to corporate contracts each month.
Botes says people often do not realise out-of-bundle is six times more expensive than in-bundle data, and Tariffic Online sees employees save an average of R226 per month by simply adding the correct bundles.
"The average SIM has R55 per month in extra costs, which are generally completely unnecessary. It is absurd that companies are paying for employees' daily horoscope SMSes and BlackBerry charges when the employees are not using BlackBerry phones - and many haven't been for years," adds Toma Batev, Tariffic's head of DevOps.
Another key issue is dormant contracts costing corporates money. Tariffic says 11% of corporate lines analysed have no usage on them whatsoever.
"Usually, when an employee leaves a company or moves roles, the SIM cards land up gathering dust in a desk drawer somewhere while the company is still charged every month," according to Seeff.
IDC research manager for IT services Africa Jon Tullett says telecom cost optimisation is a very big deal for corporates, and mobile cost is part of that. Tullett says there are plenty of inefficiencies, including contracts which are unused or underutilised, inefficient call routing, roaming charges, out-of-bundle premium charges, etc.
"Some of them are user error ? like high data costs when roaming; some of them are process issues - like not cancelling a contract when an employee leaves. But some of them are not actual inefficiencies at all. Bundles these days typically include many more SMSes than the average user needs, but that's not a cost inefficiency ? you can't achieve a saving by removing them," says Tullett.
"Some savings are more complex ? you can save a lot on roaming by enabling WiFi calling, for example, but then you have to juggle compatible devices and configuration and so on. Some people are happy to pay extra for the convenience of not jumping through hoops, though some would describe that as cost inefficiency."
He says it's tempting to blame the providers for not being more proactive, "but ultimately it is the customer's responsibility to manage their infrastructure ? if you don't know a SIM isn't in use, you should start by asking why you didn't know, not why the telco didn't tell you".
Vodacom dominates
"I would say the corporate contract market is a significant slice of the local mobile market and will retain importance going forward," says Richard Hurst, director of enterprise research at Africa Analysis.
Tariffic observes that "although Vodacom's packages are approximately 21% more expensive than the other mobile network operators, Vodacom continues to own the lion's share of the corporate cellphone market in SA".
Business development head Cherise Stein says over 80% of all corporate contracts analysed by Tariffic over the years belong to the Vodacom network. This is followed by MTN, while Cell C and Telkom's share of the corporate market is minimal, according to the Tariffic database.
When looking at which network has the most wastage by corporate customers, Vodacom also comes out on top.
"Most companies have processes in place to manage telecom costs, but they could certainly do a lot more. There are third-party firms who will do this sort of analysis and optimisation for you, but in many cases it just takes a regular conversation with your telecom provider," notes Tullett.
Hurst agrees high cellphone bills have become an area of concern for local firms but adds both enterprise players and the operators have launched a number of new products and services to address these.