Cat paw unlocks new iPhone
A report shows the iPhone 5S fingerprint sensor can even be used by cats.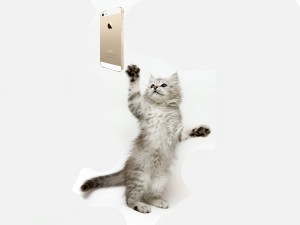 Apple's new fingerprint sensor in its iPhone 5S is not restricted to humans. Users can even use their furry friends to unlock the device.
A video made by TechCrunch shows you could use a cat's paw for Touch ID too. A cat has identifying prints on its paws, similar to the fingerprints of humans, which allows it to unlock an iPhone using the fingerprint scanner. The tech site tested a cat's paw to prove it works and says no other paw pads were able to unlock the phone.
TechCrunch also tested the 5S fingerprint sensor on the heel of a palm, as well as on the inside of the forearm, and found it is possible to register and successfully unlock with both skin regions. The report notes, however, that it is trickier to get the unlock to work consistently, and trying to fool the sensor by using the same part of the body on the opposing limb never worked.
Touch ID - a fingerprint scanner embedded in the new iPhone 5S's home button - has been touted as a significant security plus, but some say it is merely a security step and not a solution. The scanner has been reported as being a first step toward realising the full potential for biometrics in personal electronics, heightening security for applications like banking and shopping while doing away with multiple passwords.
So if for some reason your cat needs access to your iPhone 5S, you can easily register them as one of your five stored Touch ID profiles.