Google tests Maps app for iOS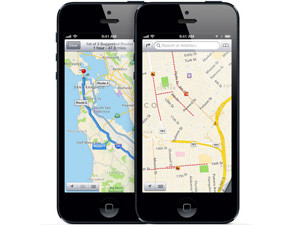 Google is reportedly putting the finishing touches on its new mapping app for iOS, and will soon submit it to Apple for approval.
A Wall Street Journal (WSJ) report cites a source "with direct knowledge of the matter" as saying Google has already distributed a test version of the app to some people outside of the company. There is no clear timeline for when Google will make its submission to the App Store, but recent reports point to Google seeking to release the app before year-end.
Apple irked iOS users in September when it released its in-house Maps app with iOS 6, in an effort to replace Google Maps and gain even tighter control of its eco-system by avoiding having any Google software pre-installed on its devices out of the box.
The outcry over the relatively poor functionality and reliability of the new app became known as "Mapplegate", and even led Apple CEO Tim Cook to write a formal apology, admitting the app fell short of Apple standards.
In his apology, Cook even went so far as to suggest Apple customers use alternative services in the meantime: "While we're improving Maps, you can try alternatives by downloading map apps from the App Store like Bing, MapQuest and Waze, or use Google or Nokia maps by going to their Web sites and creating an icon on your home screen to their Web app."
Former iOS software lead Scott Forstall reportedly refused to sign his name to the official apology, adding to the factors that are said to have led to his ousting from the company. According to the WSJ report, Apple's senior VP for Internet software and services, Eddy Cue, is now leading the engineers responsible for Maps and is taking a hands-on approach to fix the app.
The report adds that the Google app will feature turn-by-turn navigation. This feature had been a major sticking point for Apple and Google, as it was previously not included in the iOS app that used to be preinstalled on iOS devices. The companies, reportedly, could not agree on what Google would get in return for providing such features.
Mapping is becoming increasingly competitive in the smartphone space, with Nokia also recently announcing its new cross-device cloud location service, Here. Nokia says it will release an iOS app in the coming weeks.
It has been noted that a standalone Google Maps app for iOS could prove to be lucrative for the search giant, as it will now be able to include ads from local businesses and tie it in with other Google services - things that Apple previously blocked when it had control over the pre-installed app.
Apple also recently removed the pre-installed YouTube app from its iOS devices, allowing Google to make a standalone app available. The new app includes in-video ads, and has become one of the most popular app downloads on iOS since its launch.