Constructing an industry, open-source style
As an absolute fanatic about IT in all its iterations, Kevin Wilson made a strange choice by moving into the construction industry.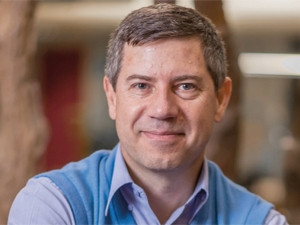 The building sector typically spends only 3% of its operating budget on IT, so Kevin Wilson, a self-confessed IT fanatic, has no money to blow on shiny new gadgets or cutting-edge software. But with a dire need to overhaul the few IT systems that exist and communicate with workers on remote building sites, it does present the enormous challenge of thinking out of the box. Or thinking inside the box, actually, since Wilson has invented two solutions where all the IT kit needed for a construction site is simply delivered in a converted shipping container.
It's ingenious, and since he's a great believer in open source, Wilson's designs could soon pop up on building sites all over Africa, and not only those run by his own company, Stefanutti Stocks.
Wilson joined the company three years ago as the GM of IT Services. He had held a variety of positions before that, spending 13 years at CS Holdings, then several far shorter stints at other companies. That doesn't imply he has little staying power, he says, it just reflects a rapid movement between projects he has worked on as a consultant. He's now settled in happily at Stefanutti Stocks, a construction group with 12 000 employees in SA, Africa and the Middle East.
Portable data centres
Wilson is a great talker, packing so much information into an interview that two of my pens expire. He seems to work as rapidly and enthusiastically as he talks, too, having completed more than 40 courses in a wide variety of technologies.
He's now working towards a BSc in IT through Unisa, giving himself a 10-year window in which to complete it. That's slow, he admits, but with a full-time job and six-year-old twins at home, his "me time" is scarce. Besides, his job already presents more challenges and opportunities to experiment and learn than any theoretical studies could provide.
"Construction is a very challenging place to do IT because you can't throw money at a problem, you have to think about it carefully," he says. "We've had to build datacentres that fit into shipping containers. That enables us to drop an entire datacentre onto sites where a lot of computing needs to happen but there's no infrastructure. We literally drive a truck up with it and say, 'Bingo, there you are'."
The portable data centres come in three sizes and use satellite bandwidth to communicate.
Stefanutti Stocks also needs to build its own interconnected networks because no single network operator covers all the areas where its sites are based. It can't afford to pay a network specialist to handle that, so Wilson's team designed a way to link lots of different providers into a single network.
Its remote sites need wireless connectivity so workers can submit items like photos or safety incident forms via their tablets. In the past, some site managers had to drive 100km to the nearest Wimpy just to get a connection.
We need to make sure that it rolls out everywhere in South Africa and the best way to do that is to let go of it rather than hold on to it.
Tackling those kinds of problems keeps Wilson's team of techies interested, since they spend about half their time on research and development rather than routine maintenance. "That keeps them incentivised, even though we may not be able to deploy the latest and greatest technologies. Although we bought some very nice, expensive pieces for the core because you don't skimp your budget on stuff that's really important," he says.
A second innovation
To solve the remote connectivity problems, Wilson has developed the Network in a Box solution. "That's a second innovation where we have boxes that connect our sites back to headquarters," he says. "We're busy with the design to roll out campus-style networks across 10km, using off-the-shelf components to keep the costs down. Half of the plumbing is open source so we can use it without buying a licence."
For the Network in a Box project, Wilson gathered a solar power researcher, a wireless network specialist, security and camera experts and a cabinet manufacturer. "We brought the best of breed around the table and I funded the research and the development of a prototype," he says. "We value the input of everyone and I try to steer the ship and give it direction and funding."
Now the people in that team have the right to reuse those technologies, either together or individually. "We believe the solutions we came up with are going to suit a lot of industries and suit South Africa because they can run off solar power and have deep batteries and can run on intermittent communications. We need to make sure that it rolls out everywhere in South Africa and the best way to do that is to let go of it rather than hold on to it," Wilson says.
That open source philosophy will benefit Stefannuti Stocks in the long run, because other companies may devise some improvements. Then, if the demand increases, the units could be built more cheaply in bulk rather than individually crafted.
"There's no point in holding onto IT in construction when it's the enabler, not the business," Wilson says. "This isn't an invention that's going to be worth billions so I can retire. I do have ideas like that, but I don't put those on the table," he jokes.
First published in the September 2014 issue of ITWeb Brainstorm magazine.