Report: ANC at loggerheads over e-tolls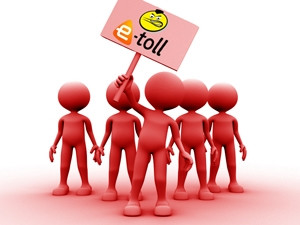 The African National Congress' (ANC's) national and provincial leadership are at odds over the party's stance on e-tolls, the City Press reports.
While the provincial leadership recently opposed the system, calling for it to be reconsidered, ANC secretary general Gwede Mantashe has warned against using the system to challenge the national party leadership.
At the announcement of their position on e-tolls, Gauteng ANC leaders noted they would lobby the National General Council (NGC) in June 2015 to have the system scrapped.
Mantashe said the party must not use the NGC as a "scarecrow", adding the event should not be used to threaten the national party publicly.
"The ANC Youth League tried that during the last NGC, where they threatened that they would not back anyone who did not support their nationalisation position," he was quoted as saying.
'Not a recommendation'
Mantashe said the Gauteng ANC's position on e-tolls amounts to a "resolution" and not a recommendation to national leadership structures.
The paper notes Mantashe previously said the e-toll project is a Gauteng initiative and not a national initiative. "This is a Gauteng-specific problem and my starting point is that leadership in Gauteng must own up. Then if they think that this thing backfired, then they must come back and say this thing is backfiring and we will continue to engage them."
Mantashe insisted there were no divisions within the party, despite recent developments. A review panel set up by Gauteng premier David Makhura will next month present its findings on the socio-economic impact of e-tolls.
'RIP e-tolls'
Meanwhile, protesters burnt their unpaid e-toll bills on top of an empty coffin while singing the national anthem outside the offices of the SA National Roads Agency Limited (Sanral) in Pretoria yesterday.
Referring to the highly criticised system, a member of the Congress of South African Trade Unions (Cosatu) said: "Today we bury a stillborn that was born in December last year, and before December this year, we will cremate him."
The trade union federation led a convoy embarking on a drive-slow from its Johannesburg headquarters to Sanral offices. Taxi drivers and bikers were also part of the protest.