Top prize for informal settlement digital game idea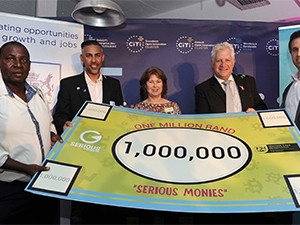 The idea of a digital game that allows communities to learn about the importance of spatial reconfiguration of informal settlements in the Western Cape saw team Vukuzenzele win R1 million in the Serious About Games initiative.
Team Vukuzenzele came up with the idea of the game to improve residents' living standards by enabling easy access to emergency services, basic services and recreational areas.
The winning team, which comprises RenderHeads, an experienced game development company, and Ikhayalami, a non-profit organisation with experience in on-the-ground informal settlements, will now develop the digital game about informal settlement upgrading.
Western Cape minister of economic opportunities Alan Winde says it's exciting to see how digital games can become drivers of economic change.
"We need to make sure we play a role in driving the digital revolution."
According to Winde, initiatives like the Serious About Games competition and investment in the digital game development industry could help the Western Cape become a serious player in the $100 billion global gaming sector.
"Through mechanisms like Serious About Games, we are claiming our space in this new world economy. More importantly, we are harnessing the power of technology to help residents improve their lives," he says.
The Serious About Games initiative is collaboration between the Western Cape Department of Economic Development and Tourism, the Cape Innovation and Technology Initiative (CiTi), Interactive Entertainment South Africa, 67 Games, and the Cape Craft and Design Institute.
The six-month initiative issued a call for local game developers to partner with communities to create an educational game that could also be used to collect data that would further help residents.
Of the 16 teams that entered the competition, four were chosen to develop a prototype and present their playable game to a judging panel made up of industry experts.
Ian Merrington, CEO of CiTi, says: "We are fortunate to live in a region which has an abundance of creative talent. This competition has managed to harness that in a way which could improve the lives of the residents of informal settlements.
"The importance of spatial configuration in mitigating the risk and damage caused by fires cannot be underestimated. Using a gaming virtual environment to reinforce and support that message is a wonderful use case of harnessing digital technology to improve people's communities."
Going forward, with the funding from the economic development department, team Vukuzenzele will expand its concept and set up a kiosk-style minicomputer at two sites, before taking the game to other communities.