Smart traffic management
Traffic Freeflow streamlines the allocation of pointsmen on SA's roads and saves time and money with a simple smartphone app.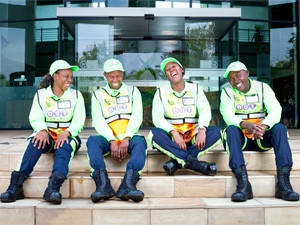 Driving in Johannesburg is a hair-raising experience. Commuters have to deal with potholes, a dearth of functioning traffic lights and endless backlogs.
It's not hard to understand why motorists are always delighted to spot Outsurance pointsmen helping to manage some of the city's most congested intersections. Remember the public outcry when they were pulled off the street for a few days?
For nine years now, Traffic Freeflow, which owns and manages the pointsmen project in Johannesburg, Tshwane and Cape Town, has been operating with Outsurance as its major sponsor, and Talk Radio 702 as its media partner. With the JMPD, the JRA and the City of Joburg as partners, it's a rare example of what a successful public-private partnership looks like.
Towards the end of last year, the people behind the scenes at the organisation decided it was time to find a way to track and manage its growing workforce.
"We were operating blind when it came to knowing where our pointsmen were and whether they were actually at work," says John Kelley, chief operating officer at Traffic Freeflow. "We started looking for a technology solution that would enable us to track the entire workforce so we could manage their time and offer a more efficient service to the cities in which we operate."
It was no easy task as many options were too complex, too costly for a donor-funded organisation, or unable to meet specific requirements. Personal tracking devices, for example, were not only expensive, but also didn't allow for recording time and attendance.
Kelley says his team was about to give up when they came across Econz Timecard, a simple timesheet software solution and GPS application that enables mobile employees to log time, attendance and job information on their smartphones. The app's location service allows it to detect when users enter or exit a geofence, which means employees cannot clock in while they're still travelling to work, for example, as they will be outside the specified geofence.
Timecard has been installed on Hisense smartphones that were chosen based on platform and price tag - the Android phones are around R400 cheaper than others in their class and offer the same functionality. The smartphones are not ruggedised for people who spend a lot of time on the road, but as Kelley says, at R650 per phone, they can be easily replaced. The pointsmen are also responsible for their phones and have to replace them if they're dropped or lost.
Long-term savings
"All our sponsors have two requirements when it comes to Traffic Freeflow," says Kelley. "The first is that they get maximum brand awareness for their investment in the project. The second is that we manage the operation as cost-effectively and efficiently as possible. What we achieved with this solution is an outlay of capital that will reduce our operating costs and up our efficiencies."
Kelley says that although it's still early days, the long-term savings will offset the system's monthly fee. "Timecard allows us for the first time ever to focus on soft savings. Our project managers were driving more than 200km a day simply to make sure that pointsmen were on assignments as planned."
With the JMPD, the JRA and the City of Joburg as partners, it's a rare example of what a successful public-private partnership looks like.
With Timecard, each project manager can view their staff via GPS mapping and see that they're at their designated geo-assignment. They can focus more on support, training and development for the pointsmen, which will help increase capacity. On the safety side, they have more time to monitor intersections for problems like obstructions, potholes and unruly drivers. The app has also reduced the distance that each manager has to travel, which translates into a saving of approximately R10 000 per year, per person.
Eye-opener
Traffic Freeflow's dispatch operations now also have access to real-time allocation of the pointsmen, thus allowing for mid-shift reassignment to other intersections that require more immediate assistance.
For the pointsmen, Timecard puts them in charge of their own payroll. With the app on their phones, there is real-time tracking of each person's location and collection of data such as time spent on point, on travelling to assignments, and on breaks, which previously could only be estimated. This is key information for sponsors who can use it to better assess return on investment when it comes to their support for the project.
The organisation was calculating its payroll manually for 200 pointsmen, with managers recording information and bringing it back to the office every day. Now all the information collected by Timecard is uploaded automatically into Pastel Payroll. Because payroll administration has been simplified, Kelley expects the internal payroll processing time to be cut in half, a saving of approximately R108 000 a year.
"Most importantly, all our sponsors rely on Traffic Freeflow to manage the project with efficacy. Timecard is helping to validate, or in some cases invalidate, our business assumptions. The data so far has proven to be a real eye-opener. We will be more than satisfied if the savings realised simply offset the cost to implement and administer the Timecard project. Projected savings after our initial investment appear to support our breaking even in the first year, and saving at least R150 000 per year thereafter."
First published in the July 2014 issue of ITWeb Brainstorm magazine.