Waspa elects new chairperson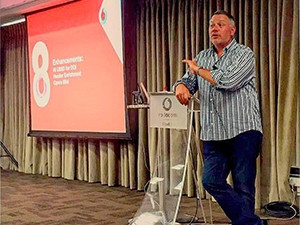 South Africa's Wireless Application Service Providers' Association (Waspa) has elected its new office bearers for 2017, including a new chairperson.
James McNab will take over as chairperson from Casper de Villiers, who has been in the role since 2013.
The volunteer management committee includes a range of professionals, including admitted attorneys, entrepreneurs, company directors, strategic marketers, regulatory and compliance specialists, and finance professionals.
The 2017 board includes Anthony Ekerold (vice-chairman, legal), Greg Brophy (treasurer), Conrad Geldenhuys (code of conduct), Rory Anderson (communications), Tanya Howard (lobbying) and Kobus Vos (membership).
Ilonka Badenhorst will continue to manage the day-to-day activity of Waspa as GM.
The board members were elected at Waspa's annual general meeting in Randburg earlier this month.
Waspa represents the interests of local wireless application service providers, while also working towards the association's consumer protection mandate.
The non-profit organisation was founded in 2004 and aims to foster consumer confidence in the WASP industry through responsible self-regulation. Its code of conduct is endorsed by South African network operators Cell C, MTN, Vodacom and Telkom Mobile.