Review: Apple, iPad Pro: the bigger the better?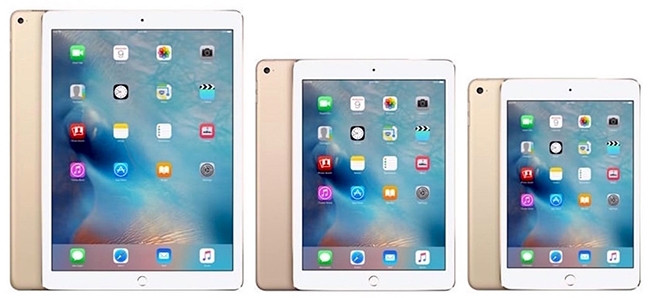 After countless years of speculation, Apple finally launched a bigger version of its traditional iPad just a few months ago. While its increased format unlocks some potent new possibilities, the device also comes with a couple of drawbacks. In the end, how suitable is the iPad Pro for business use and how good is it as a notebook replacement?
The iPad Pro features a traditional Apple design; thin, elegant, premium and robust. The first time I held it in my hands, I realised how massive it actually is. Nonetheless, the tablet is just 6.8mm thick, weighs 713g and has a great feel in the hand. To put things into perspective, the iPad Air 2 (9.7-inch) and iPad Mini 4 (7.9-inch) are just a bit thinner (6.1mm) and weigh 473g and 300g.
All the buttons and material are completely in line with other modern Apple devices. The iPad Pro also features the much-appraised Touch ID-sensor in the home button, facilitating easy and fast unlocking with your fingerprints. Bezels have been kept to a minimum to keep the device as small as possible. As with all Apple mobile devices, it feels well-built and durable.
Screen: great colours, limited brightness
The iPad Pro houses a screen able to display a resolution of 2732 x 2048 pixels. On a 12.9-inch diagonal that boils down to a pixel density of 264ppi, just like with the iPad Air and Air 2. This pixel density is branded by Apple's marketing machine as Retina-technology. In layman's terms: images and words on the screen look amazingly crisp and sharp. While Microsoft implements a 3:2 screen aspect-ratio with its latest Surface devices, Apple still clings on to its traditional 4:3 screen on the iPad Pro.
The maximal brightness on the iPad Pro (364 cd/m2) is a bit of a disappointment, since the iPad Air (408 cd/m2) and Air 2 (400 cd/m2) scored significantly better. For indoor office use, the relatively low brightness levels of the iPad Pro won't pose any problem. In direct sunlight, however, text and images will be more difficult to read. Apple probably decided to decrease the Pro's max brightness to prevent the battery from draining too fast.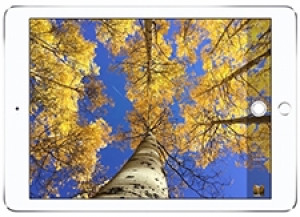 Contrast greatly influences the overall screen quality. In light of that, it's a good thing that the iPad Pro features one of the highest contrast values I've seen on any tablet using LCD-technology. As a result, photos, images, text, presentations and documents show amazing detail and vivid colours. The screen is literally a feast for the eyes.
The accuracy of colour reproduction by the iPad Pro leaves some room for improvement, though. Which is a shame since the device would make a good tool for artists, photo professionals or designers when combined with the Apple Pencil. Anybody that is keen on very realistic colours will find the Microsoft Surface 4 to be a better candidate. However, the majority of home and office workers will never be plagued by the somewhat inaccurate display of colours by the iPad Pro.
Sound: four intelligent speakers
A larger format also potentially unlocks some new possibilities in the sound department. The iPad Pro houses four separate speakers, each in one corner, that can produce triple the maximum volume levels of the iPad Air 2. This is due to the speaker housings being machined directly into the unibody enclosure.
Even at those high volumes, sound remains surprisingly clear and pure, although the device is audibly pushing its limits. At half volume, sound quality is good and unquestionably the best of any tablet yet. It can't match the quality of a thick gaming laptop with specialised speakers, though. Low frequencies (bass) are more than acceptable when keeping the thickness of the iPad Pro in mind. Mid and high sound frequencies are excellent.
With the iPad Pro, Apple implemented an innovative feature that ensures the high frequency sounds are always produced by the two upper speakers and the low-frequency by the lower. No matter in which orientation you're holding the device, it will automatically optimise its harmonics.
Camera's: don't hold your breath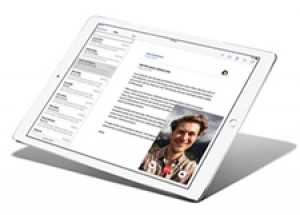 On the back of the iPad Pro, there's an 8-megapixel camera. When compared to other rear-cameras from high-end smartphones, the quality won't put a smile on your face. Picture quality isn't bad, but just nothing exceptional. In low-light situations, both image quality and detail quickly deteriorate. Apple clearly doesn't see many people taking pictures with a huge tablet and therefore wisely decided not to put too much effort, resources and quality in the camera module.
On the front, just above the screen, there's a basic 1.2-megapixel camera. Unsurprisingly, the quality isn't good, but it delivers enough for a decent Skype call with colleagues or business client. Again, quality swiftly goes down in dark scenarios.
In addition to still images, the iPad Pro also facilitates capturing video in 30 frames at 1080p resolution, or 120 frames at 720p. To get some good shots, it needs plenty of light. All in all, shooting video works like it should, but just don't expect anything special or high-quality. It pales in comparison to video captured by the iPhone 6s Plus, for instance.
Smart Keyboard: should have been included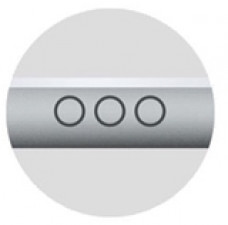 The iPad Pro is Apple's first device to feature a new type of physical interface called the Smart Connector. Located on the long side of the iPad Pro, these three little dots facilitate seamlessly connecting the tablet with accessories like the optional Apple Smart Keyboard.
What makes this connector so handy is that it uses magnets, and takes care of both power and data transfer. As a result, you only need to align the tablet with the keyboard and it automatically attaches itself. There's no need to pair it using Bluetooth. The keyboard also doubles as a slim, lightweight cover for the iPad Pro.
Apple designed the keyboard without any seams or gaps between keys, meaning it won't break after a coffee spill or accumulate dust over time. It's even got a coating that is water- and stain-resistant. A comforting thought, given that the optional keyboard will set you back a whopping R3 699. This price tag is, in my opinion, too steep since the keyboard is an absolute necessity to get the most out of the iPad Pro. Like with the Microsoft Surface Pro 4, the keyboard should have been in the box by default, and not being sold separately as an optional accessory.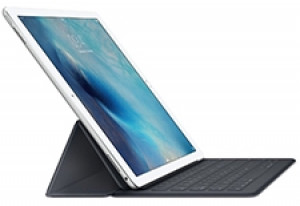 Although the keyboard feels and looks premium, typing comfort isn't. To keep the keyboard as thin (4 mm) as possible, Apple had to keep the individual keys thin as well. This lack of key-travel sometimes leads to confusion about having pressed the key hard enough and the occasional typing error. Nonetheless, the keyboard can be used for writing long documents. I did find the equally thin Microsoft Type Cover to be more comfortable.
When combined with the optional Smart Keyboard, total weight adds up to a mere 1.05 kg. Compared to a 13.3-inch Macbook Pro (1.58 kg) or 13-inch Macbook Air (1.35 kg), that's considerably lighter. For business users that carry their device with them wherever they go, this will undoubtedly be an important advantage. The Surface Pro 4, including Type Cover keyboard, weighs about the same (1.09 kg).
Apple Pencil: not for business

Although Steve Jobs was no fan of the idea, Apple finally launched its own stylus. This Apple Pencil (R1 999) is supposed to give its user an unrivalled level of precision. They even claim it will offer the ability to touch a single pixel, which is highly unlikely.

It is, however, much more than just an ordinary stylus. For starters, it's an active pencil with its own array of sensors and communication hardware, so it carries its own built-in battery. Apple claims the pencil will last for 12 hours on a full charge. According to my personal experience, that claim is about right. It once stopped working after just 10 hours, but I had used it intensively all throughout the working day.
The pencil also features a lightning connector at the end to directly connect it to the iPad Pro for charging purposes, and possibly firmware updates in the future. Its sensors, embedded at the tip of the Apple Pencil, will work together with the iPad Pro to accurately detect and communicate position, force and even tilt.
Setting all these neat hardware specs aside, the Apple Pencil is mainly interesting for creative people like artists and designers. Making digital drawings or paintings with the Apple Pencil feels incredibly intuitive. The majority of business users, however, will find it offers few advantages.
The pencil does have some quirks, though. It lacks a virtual eraser at the end and when charging it through the iPad Pro, it awkwardly sticks out. Shame the pencil also doesn't (magnetically) attach itself to either the iPad Pro, or the Smart Keyboard. The fact that you could actually lose it, was Steve Jobs' main argument against Apple ever coming up with a stylus in the first place.
Hardware: real powerhouse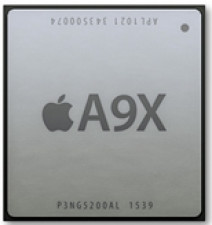 In order to manage all those pixels, and prove its worth as a possible notebook replacement, the iPad Pro is powered by the A9X-chip. This same chip was recently featured in the iPhone 6s and 6s Plus, but now runs on a higher frequency. The A9X is currently the most powerful Apple SoC (system-on-a-chip) and is manufactured by TSMC using a 16nm FinFET process, which facilitates even higher performing, and energy efficient, components.
The actual ARM processor inside the A9X features two 64-bit 2.26 GHz Twister-cores. In addition, the iPad Pro houses 4GB of fast DDR4 RAM for smooth multitasking. The GPU now houses no less than 12 PowerVR 7XT cores, which is twice that of the previous A9 SoC.
The iPad Pro is available in three different hardware versions, one with 32GB of storage space and another version offering 128GB. Only the 128GB model leads to a third model that also supports 4G mobile Internet. This dubious pricing strategy entails that users who primarily work with large files, are left with no other option than to buy the 128GB version, adding another R2 500. In light of that, a 64GB model would have made a lot of sense. Also, users that require 4G functionality cannot choose for the 32GB version, but are forced to purchase the 128GB model instead.
For a comprehensive overview of all the iPad Pro hardware specifications, see here.
Performance: top of the line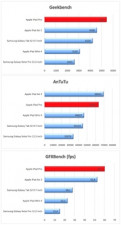 So how does the new, beefed up Apple A9X chip do in benchmarks? And how does all of that relate to other tablets like the 7.9-inch iPad Mini, 9.7-inch iPad Air 2, 9.7-inch Samsung Galaxy Tab S2, as well as the 12.2-inch Galaxy Note Pro?
According to Geekbench, the iPad Pro delivers top results, while AnTuTu showed only the iPad Air 2 was able to beat its bigger brother. GFXBench, which specifically measures graphical capabilities, again crowned the iPad Pro as the winner. Not very surprising given the fact that there are 12 dedicated graphical processing cores at work here.
In practice, during both typical home and office-related activities, the iPad Pro came across as an exceptional smooth and fluid device. Apps start at warp speed, switching between them is silky smooth and never did I experience delays or lag in any way, or at any point. When used intensively for longer periods of time, the device also stays surprisingly cool.
Battery life: unimpressive
Designers at Apple decided to equip the iPad Pro with a massive 10.310mAh battery. To find out how long it would last during typical office activities such as mailing, browsing and working with various documents, I ran my battery torture test.
All results were compared to those of the 9.7-inch Apple iPad Air 2 and Samsung Galaxy Tab S2, as well as the 12.3-inch Microsoft Surface Pro 4, 12.2-inch Samsung Galaxy Note Pro and two 13-inch Apple notebooks. This test was done without the Smart Keyboard attached.
With just seven hours and 15 minutes, the iPad Pro shuts down considerably sooner than the two 13-inch Macbooks (11+ hours) and 12.2-inch Galaxy Note Pro (10:15). However, the test doesn't factor in idle time during the day. With that in mind, the iPad Pro would last for about nine hours straight. Although that will get you through a full day at work, battery life remains relatively mediocre.

If you're planning to use the device primarily for watching 1080p video, results won't get any better. The iPad Pro runs out of juice after only six hours and 45 minutes. All the other devices, with the expectation of the Surface Pro 4, last significantly longer.
Fully charging the iPad Pro can take quite a while. With the supplied 12 Watt charger it will take about five hours.
Software: multitasking in iOS 9
My review model of the iPad Pro came pre-installed with iOS 9.2. Although Apple claims this latest instalment of their mobile operating system to be specifically designed with the iPad Pro in mind, the overkill space between each app-icon on the home screen doesn't really reflect that. Something that Apple will undoubtedly address in a future iOS update.
Nonetheless, iOS 9 does offer some useful multitasking features on the iPad Pro, which are crucial for anybody who is seriously considering the device as a worthy notebook replacement.
On the iPad Pro you can now show a list of apps, just by swiping from the right edge to the centre of the screen when in any app. From there, simply pick the second app and it will start on the right side of the screen. This secondary app can be displayed in either a small strip, or spread exactly 50/50 with the primary app. The great thing is that you can work in both apps at the same time, like an Excel-sheet on the left side and a Word-document on the right. Apps do need to specifically support this new feature, though. In landscape mode, the iPad Pro can actually fit two 9.7-inch iPads. Just to give you an idea of the added screen real estate you're getting with the new Pro version.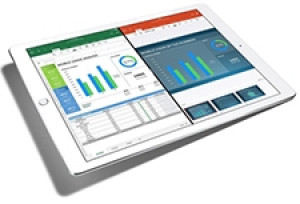 In addition to this handy split-view, there's also a picture-in-picture mode. When playing a movie, or video conferencing via Skype, the video will continue to display in the foreground even after going back to the home screen, or switching to another app. This neat feature will be especially handy for business users that like to continue their Skype video conferencing calls while simultaneously checking some documents or e-mails.
For traditional tablet use, Apple's iOS mobile operating system has earned an excellent track record. But, how qualified is it when you're planning to use the new iPad Pro mainly as a notebook replacement? Although there are tons of apps available for iOS, some corporate specific or tailormade software may not be.
iOS also doesn't run Windows executables or facilitate a locally installed virtual Windows machine. Arguably, there are some cumbersome ways to get a Windows desktop on your iPad, like remote access with tools like TeamViewer. They are, however, nowhere near as fast, flexible and user friendly as a native app.
In addition, specific apps or software that is available for iOS generally offer fewer options and features than their Windows or OS X counterparts. In light of that, anybody that plans to use the iPad Pro as a full replacement of their current notebook should first check up on the availability, and features, of specific iOS apps.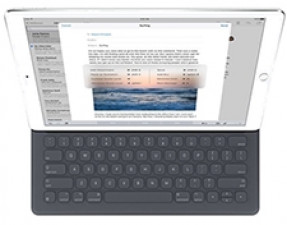 The biggest physical absence when using the iPad Pro as a notebook replacement, at least in my opinion, is the trackpad. Even though there's a virtual, on-screen trackpad by swiping with two fingers over the on-screen keyboard. There's nothing like a continuously present and visible pointer, like in Windows, OS X or even Linux. It sure beats swiping over the screen all the time, hands down, especially when editing text and spreadsheets.
In some cases, the Apple Pencil will do the trick since it allows for more precision. The downside to the pencil is that grabbing it every time you briefly need it will become very strenuous, very soon.
Final verdict
Despite its huge screen, the iPad Pro remains relatively light, thin and still pretty portable. It has a great feel in the hand and features an elegant, solid design. In addition, the device proves to be a top performer with high screen contrast and an excellent speaker system. The new iOS 9 features, like multitasking, are also very useful and definitely good for productivity.
Even though battery life will get you through an eight-hour office day, it remains relatively unimpressive. On top of that, the camera is mediocre at best, screen brightness a bit low and colour reproduction far from perfect.
Nonetheless, as a tablet the iPad Pro is a great device. Its biggest plus, however, is also its biggest downside. The extra screen space will absolutely make you love using it even more, it also decreases portability and holding comfort when compared to the regular iPad.
Connected to the optional Smart Keyboard, the iPad Pro transforms into a decent notebook replacement for most business users. However, iOS 9 does come with some serious limitations as an alternative to Windows or OSX. Demanding business users who plan to do heavy multitasking, install exotic or tailor-made software and require general operating system flexibility, will find iOS 9 simply too restrictive.
In combination with the very intuitive Apple Pencil, the iPad Pro will transform into a dream machine for every artist, designer or creative person in general. For them, the bigger screen will be a blessing and essentially a larger canvas to express themselves on.
In the end, the Apple iPad Pro will not appeal to a broad group of people. It's a real niche product. However, should you fit that specific target group, and you've got the cash to spare, it will prove an incredible device