Meet Pepper - the customer journey management robot of the future
Elisha, a European telecommunications provider, today unveiled a surprising first at the launch of its new flagship store in Helsinki, Finland: the use of a humanoid robot in a live retail environment.
The robot is called Pepper and it is the world's first personal robot that recognises emotions. Pepper was integrated into the store by Qmatic, a certified partner of SoftBank Robotics Europe. This created an innovative in-store engagement point for Elisha that can interact with customers in a personalised and dynamic way. Pepper plays a specific role in fulfilling the click-and-collect process, where customers have purchased an item online and visited the store to collect it.
The process of online purchasing runs seamlessly through the Qmatic Orchestra platform, ensuring customers have a great sales journey from purchase to product collection.
On arrival at the store, the customer will be able to interact with Pepper and get help to check in for a service using information provided during the online purchase confirmation. Pepper relays that information to a store associate, who then delivers the product to the customer. The Pepper interaction engages the customer personally and advances the brand reputation in a way static solutions can't.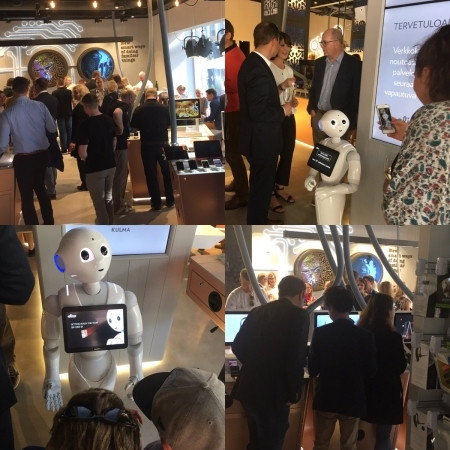 "We specialise in delivering cohesive and personalised customer journeys. By integrating Pepper with our Orchestra platform, we're able to enhance the customer journey and enable personal and meaningful engagements with customers," said Sven-Olof Husmark, vice-president and CMO of Qmatic Group. "And the data gathered from those engagements - including with the robot - provide analytics that identify opportunities for continual refinement of the customer experience."
"I cannot wait to meet Pepper at the Great Experience 2016 Conference," says Eugene Swanepoel, Managing Director of Emerge Queue. "Qmatic are really pushing the envelope when it comes to customer journey management innovations. We are proud to be associated with them as the sole provider of Qmatic customer experience solutions in South Africa and other neighbouring countries."
Emerge Queue is a Qmatic Premium partner and the market leader in South Africa. For more information on any of its products and services, please visit Emerge Queue's Web site at www.emergequeue.com or contact it at info@emergequeue.com.