IT brief: improving control of virtual machines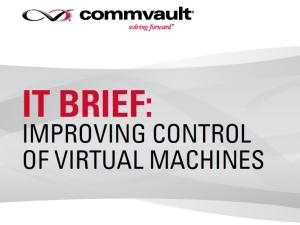 Server virtualisation is a darling of IT administrators for a number of reasons: it delivers more efficiency and cost control than adding physical servers to accommodate the data explosion. It offers savings due to server consolidation, at the same time giving enterprises valued flexibility and scalability, and promises to make the transformation to cloud architectures, whether private or hybrid, faster and simpler.
While IT embraces these apparent benefits, administrators are facing the challenges that come along with such a momentous shift in the way we now process, store and protect our data. Server virtualisation has become a powerful change agent, forcing IT organisations to evaluate and oftentimes modernise their backup and recovery approach for virtual machines. It is also enhancing the need for automated processes, as IT must manage and control data protection with the same degree of effectiveness it exhibited in legacy systems.
Increasing use of server virtualisation is among the top priorities of IT professionals, along with improving data backup and recovery, managing data growth, and data centre consolidation. Transitioning to this virtual environment puts added demands on backup and recovery and on meeting service level agreements (SLAs) for critical applications. A single platform that can fulfil these needs for advanced data protection and scalability is CommVault Simpana software, which enables rapid scalability of virtual machines, movement of business-critical applications to the cloud, and data protection in both the physical and virtual environments.