What role does B2B e-commerce play in an omni-channel strategy?
While traditional B2B buying journeys happened offline, the B2C experience has changed B2B buyers, says Jannie du Toit, CEO of Comalytics.

"In the future, competition for customers won't be won on product or price, but rather on customer experience. Technology will be a key enabler in sharpening your sword for this upcoming battle," says Jannie du Toit, CEO of Comalytics.
In our age of constant connectivity, the buying journey is no longer linear. Instead, digitally savvy customers want to switch across channels, processes and devices. This is certainly true in the retail world, where companies with a sound omni-channel strategy dominate.
Is it equally true for B2B?
Says Du Toit: "We believe a strong omni-channel strategy is now critical for B2B businesses too. E-commerce buyers, both B2C and B2B, want to shop and communicate in exactly the way they personally prefer."
B2B buyers changing
While traditional B2B buying journeys happened offline, the B2C experience has changed B2B buyers.
Their own extensive personal use of sites such as Amazon, Uber and Takealot influences what they expect from their experience as a B2B customer.
B2B customers now demand real-time digital information at their fingertips. According to Forrester, 68% want to view their activities online and 74% want to look up product information, all across any channel they choose. They expect to be able to compare products and prices, and dictate their own payment methods and fulfilment timing.
B2B omni-channel spectrum
Forrester's research also shows B2B buyers traverse the spectrum of buying options from online (to the left of the diagram below) to offline (to the right). Many are very comfortable with a hybrid, or omni-channel-centric, solution between the two extremes.
This hybrid option provides B2B buyers with self-service for many of their processes, while still allowing for personal service when necessary.

This way of doing business requires a mindset change from retailers, manufacturers, wholesalers and distributors. Instead of "selling", you are helping your customer to buy. You are also giving them the freedom to move up and down the buying spectrum, seamlessly switching channels, processes and devices. And the easier you make it, the more business you will do.
No more silos
To make sure your B2B company is ready for this new business dynamic, it is imperative to start adopting an omni-channel strategy now.
Du Toit believes defining and implementing an omni-channel strategy for your B2B business is much more complex than simply adding a B2B e-commerce Web site.
"Gone are the days when you could run your online store as a separate business. The siloed approach creates a disjointed customer experience, causing friction and disappointment."
In contrast, the endgame of a B2B omni-channel strategy is a seamless experience across all your shopping channels and interactive touch-points. To achieve this, make sure you have covered all the bases.
Four pillars of a B2B omni-channel strategy
Ideally, an omni-channel strategy should incorporate at least the following four pillars (or aspects) of your business:
Brand
Define your brand strongly and consistently throughout your channels. Your customers should see every channel as an integrated part of the whole. If they are confused or feel you are not fulfilling your brand promise in any part of that whole, you run the risk of losing their business.
Customer
Know your customers' needs and expectations. For example, they may be 30% self-service and 70% hybrid, or 60% self-service, 20% hybrid and 10% full service. Also get clear on exactly which channels they prefer to use in each of these categories.
Technology and data
Select a B2B e-commerce software system that fits your business and your customers' needs. Then integrate that into your existing system, especially your ERP. Strongly linked to technology and systems integration is the integrity and sophistication of your data. Your data set needs to be clean, accurate and very descriptive, so both your team and your customers can rely on it.
Organisation and processes
To ensure success, align your entire B2B organisation with your new omni-channel strategy. Everyone needs to speak with "one voice", both to build customer trust and loyalty, and to create an efficient and motivated workforce.
Choosing the right e-commerce system that can adapt to your processes is important. Correctly implemented, it helps connect the dots between the four pillars and extends your brand out to several touch-points.
A B2B e-commerce system can launch your omni-channel strategy
Even if you're not yet ready for a full omni-channel solution, a B2B e-commerce system can be a very effective first step towards it.
Many B2B businesses still rely on legacy systems with siloed processes and platforms that cannot speak to each other. This makes omni-channel impossible.
For example:
* Customers may be able to order online, but if that ordering system is not linked to the warehouse, stock levels won't be accurate.
* Sales reps might not have access to a customer's online account, or they may hold information about a customer in their personal filing system.
* Customers could have different account numbers across separate trading divisions of a large multinational company.
If you implement a B2B e-commerce system and integrate it to your other systems, you do away with those silos.
Our integrated e-commerce software allows you to make optimal use of the information already stored in your existing ERP, and sometimes even in your CRM and other systems too. Changes to your ERP are immediately and automatically reflected in your e-commerce system and vice versa, moving you that much closer to an integrated, omni-channel system.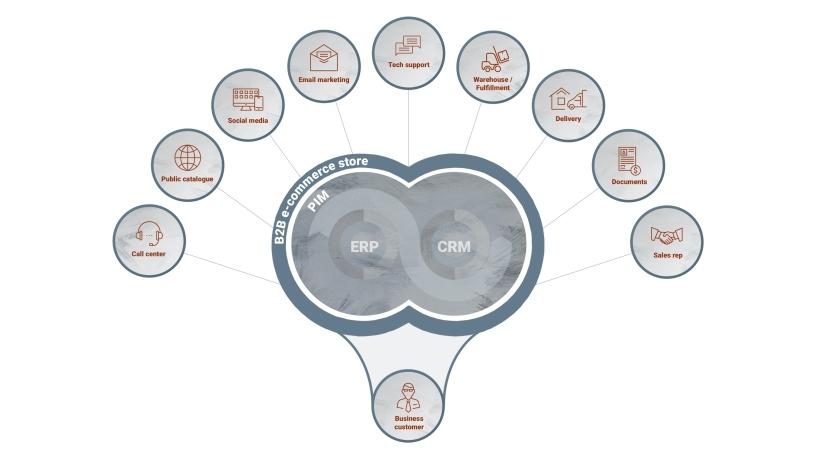 To understand more about the Comalytics B2B e-commerce software, explore the basic features of the system here.
What a B2B omni-channel experience looks like
With an integrated B2B e-commerce system, you create "one view" of your customer, products, prices and stock levels for everyone involved. At the same time, you move those customers closer to the self-service side of the Forrester buying spectrum and provide them with an omni-channel-type experience.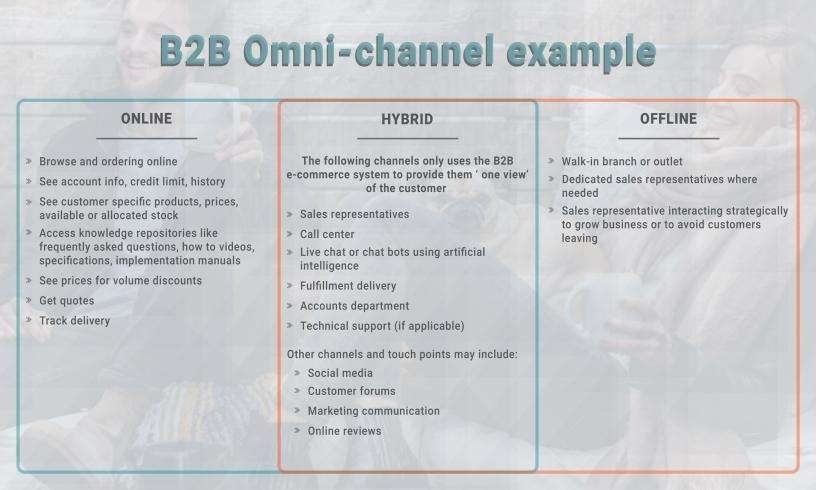 Customers can check their specific products, prices, volume discounts and credit limits on your B2B e-commerce website. They have access to live stock levels and can order online. They're also able to track their delivery and access knowledge repositories like specifications, implementation manuals, FAQs and how-to-videos.
At times, they may need strategic business advice, assistance with an order or a custom configuration. Then your team members, whether a sales rep, call centre or live chat agent, or the accounts department, can access all their information online and give them personal attention.
With your B2B e-commerce system linked to your ERP, customers can also move between online and offline channels without losing information. For example, they may order on the website, pick up their order at a branch, then get a copy of an invoice online or even return their order at another branch if need be.
The bottom line...
It can take time and a lot of hard work (and often some mistakes) to move from an offline to an online/hybrid culture. In today's marketplace though, providing a great customer experience isn't just a nice extra. It's imperative, and failing to invest in it will make it difficult to compete in the future. Get ahead of the pack by implementing an omni-channel strategy for your B2B business now.