Point-of-care diagnostics
Synertech was approached by Suzanne Smith, a Senior Engineer and Researcher at the Council for Scientific and Industrial Research (CSIR) in the mechatronics and micromanufacturing competence area, to assist with testing of screen-printed radio frequency identification (RFID) tags on flexible substrates. The purpose of these RFID tags is to enable low-cost and integrated point-of-care diagnostic solutions (figure 1).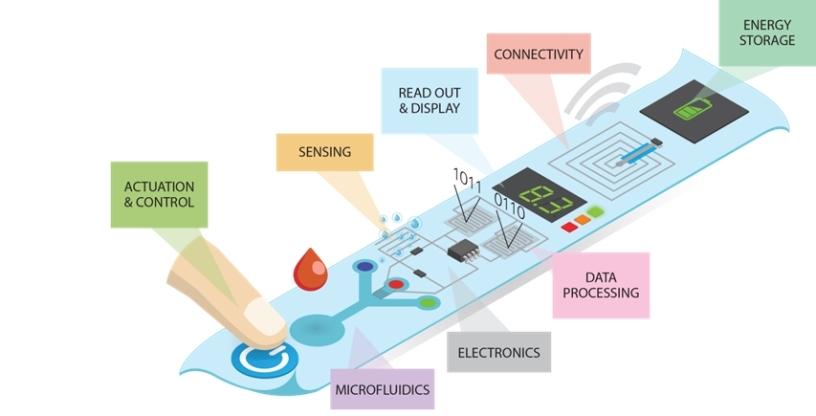 Synertech conducted numerous tests in line with the agreed requirements of good industry principles and confirmed that the RFID tags are functional and meet the desired design criteria set by Smith at the onset of the exercise.
Due to the innovative approach undertaken, this assessment was done on a pro bono basis in line with Synertech's desire to improve South Africa's local RFID capabilities by investing in projects of this nature with skills and resources.
The scope of the research is better described in [2], with the following abstract: "This work explores the practical functionality of ultra-high frequency (UHF) radio frequency identification (RFID) tags screen printed onto various low-cost, flexible substrates. The need for integrated and automated low-cost point-of-care diagnostic solutions has driven the development of automated sensing and connectivity for implementation with these devices.
"This work explores wireless communication for paper-based point-of-care diagnostic solutions through screen printing of UHF RFID tags onto various low-cost and flexible substrates. Manual screen printing and assembly of RFID sensor integrated circuit packages and UHF RFID dipole antennas onto various substrates was performed and the practical functionality of these tags was assessed.
"Print quality including parameters such as resistance, roughness and print thickness are reported to illustrate the effect of the substrate on the printed result. Practical read range measurements are presented for the various tags in passive and active modes, as well as with a load connected, for different tag orientations. Results showed the tags are adequate for clinical requirements with read ranges of at least 75mm achieved in passive mode across the different substrates.
"Our results indicate that a variety of low-cost substrates can be utilised as different packaging and label options for paper-based diagnostic tests. This work presents the feasibility of implementing such devices towards low-cost, integrated point-of-care diagnostics, using straightforward fabrication techniques and realistic testing environments to illustrate the possibilities."
Further scientific articles have also been recently published [1], providing context for point-of-care diagnostics using printed tags.