US invests R5.4bn in SA solar power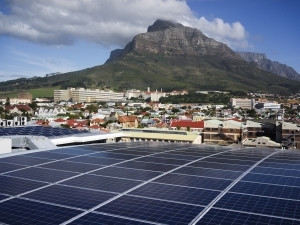 US government development bank, Overseas Private Investment Corp (OPIC), will invest up to R5.4 billion ($400 million) in a solar thermal plant in SA.
The 100MW Redstone solar project, developed by California-based SolarReserve and Saudi Arabian electricity producer ACWA Power, will be situated in the Northern Cape and provide electricity to over 200 000 homes during peak demand once complete.
"In itself, [the project is] not that big," considering SA has a peak power demand of approximately 35 000MW, says Chris Yelland, energy analyst and MD of EE Publishers.
Yet small-scale renewable energy projects are relatively quick to deploy, and a large number of small energy projects affords SA's energy sphere more flexibility and less risk than relying mostly on large-scale plants, which often take longer than expected to develop, pose greater risk to SA's power grid if they encounter complications, and are too expensive for private investors to finance, Yelland continues.
Beyond being environmentally-minded, diversifying SA's range of power solutions makes economic sense, as it dissipates the risks associated with relying mostly or entirely on one type of power source, says Yelland. "At the moment, a lot of energy in SA is coal-fired, which means we're at risk to the price of coal," he notes. Yet if one section of a more diversified energy sphere runs into complications, a much smaller segment of the population will be affected, he explains.
Currently, over 16 00MW of renewable energy is being delivered into SA's power grid, Yelland adds.
The SA Department of Energy aims to build 3.7GW of renewable energy through its Renewable Energy Independent Power Producer Procurement Programme, which in June awarded a R5.8 billion wind energy tender to a consortium led by Ireland-based Mainstream Renewable Power, to install 250MW of wind-generating capacity in SA.
OPIC is part of Power Africa, initiated by US president Barack Obama in 2013 to support energy growth in Sub-Saharan Africa.
According to Reuters, OPIC was founded in 1969 during the Richard Nixon administration, "as a 'soft power' tool to extend US influence in the developing world by funnelling private sector money to core infrastructure projects".
The Redstone project is financed by R5.6 billion in debt and R2.4 billion in equity from local and international lending institutions.