Eskom sets sights on renewable energy storage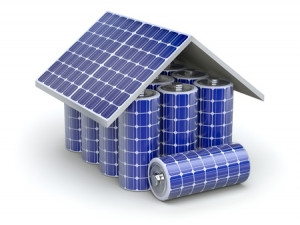 While renewable energy independent power producers (IPPs) are in the dark about when new power purchase agreements (PPAs) will be signed, Eskom has established a battery test and demonstration facility at its Research and Innovation Centre in Rosherville, the only one of its kind in SA.
The power utility says the objective of this facility is to compare different technologies and supplier products under identical South African conditions and to identify which of these products is suitable for Eskom's future needs for energy storage.
It notes these needs have been primarily defined as grid strengthening and for the integration of renewable energy sources into the grid.
"We have identified the need for up to 2 000MW of additional, daily balanced energy storage within the existing grid," says Barry MacColl, Eskom's general manager for research testing and development.
Eskom says research has shown storage helps with the integration of renewable energy supplied by IPPs being fed into the grid. This is due to the almost instantaneous variations in the quantum of this supply based on the variations in solar and wind resources, it explains.
Peak power
Worldwide, the need for energy storage to smooth the output of wind and solar farms is being recognised, and based on this, as much as 2 000MW is expected to be required to accommodate the up to 18 000MW of renewable generation included in SA's Integrated Resource Plan 2010, the power utility points out.
Additionally, says Eskom, the timing of production from solar power added to the grid is such that Eskom will need to provide additional peak power generation, or load shift the energy produced into times when the sun is not shining.
Another key use of energy storage is to help distribution and transmission strengthen IPPs' infrastructure and defer capital expenditure as well as provide voltage and frequency support.
"The future need for energy storage is therefore clear; however, the existing technologies are only at the beginning stages of commercial development," MacColl says.
The two systems installed include 200kW, 1.0MWh units supplied by AfriDevo (a lithium ion battery manufactured by BYD of China) and a General Electric unit, which are supplying their version of the Zebra battery previously tested for electric vehicles (a sodium nickel chloride battery).
A control and data monitoring system has been installed to allow for the battery systems to be controlled and charged and discharged by the grid and provide simulation opportunities. There is space for more units, says Eskom.
"The intention in the long run is to have additional opportunities explored to test additional technologies. Best practice and best approach will be formulated during this process to ensure optimal procedure for future technologies to be included in the testing facility. Testing initiation is planned for the end of July," MacColl says.
Small contribution
Meanwhile, renewable energy industry body the South African Renewable Energy Council (SAREC) says the best means for Eskom to boost the industry in SA is to conclude duly procured PPAs.
"Nevertheless, as a small contribution to ensuring existing renewable energy contributions to the grid are optimised, this initiative is welcomed," says Brenda Martin, chairperson of SAREC.
"The uncertainty around the conclusion of PPAs is taking a significant toll on South African businesses and communities surrounding the proposed power plant sites. We hope PPAs will be concluded soon, so that government's vision for the renewable programme can be realised through continued value chain growth," she notes.
Richard Halsey, a member of environmental body Project 90 by 2030, says the Eskom facility itself is just for testing, so it will have no immediate effect on large-scale renewable energy operators that are currently supplying the grid.
"However, it is a positive step, as once the percentage contribution of renewable energy to the national grid increases substantially from what it is now, there will be a higher requirement for storage. Therefore, taking steps to determine the best storage options is an indication of forward thinking and recognition of the role that renewable energy will have to play in our future energy mix," says Halsey.
He is of the view that large-scale energy storage options for Eskom are important, but with a move to more decentralised production of electricity, there is also a need for municipal and residential scale storage to complement the expanding future roles of these entities in electricity generation.
"Also, work by the CSIR has shown that our national wind resource, on aggregate, is often in the evening which complements the daytime peak of solar. This means our combined renewable resources, on average, cover a large proportion of the day without storage. This is not to say storage is not important, but just that we have some leeway given the advantages of temporal distribution of our wind and solar resources," Halsey concludes.