ADSL not appropriate for VOIP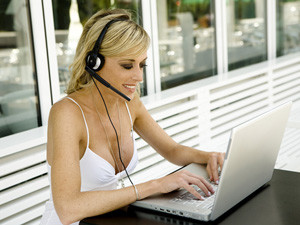 The majority of South African telecommunications players have expressed reservations over the use of ADSL for voice over Internet protocol (VOIP), saying that although ADSL may deliver better bandwidth at a reasonable price for many applications, when it comes to VOIP, it does not deliver gold standard communications.
They also argue that ADSL offers very little in real terms, while services like Diginet, Metro Ethernet and fibre are available and offer more appropriate quality voice.
The industry players are also of the view that benefits can only be realised if an organisation currently has ADSL for data and wishes to introduce voice in order to run a converged voice and data service within the organisation.
Cost considerations
According to Riaan Pietersen, head of the enterprise division at telecommunications solutions provider TeleMasters, due to cost considerations, most companies have settled for the unstable quality of VOIP delivered over ADSL.
"One of the downfalls of VOIP in the past was that most telcos used ADSL lines for their connectivity due to the costs associated with higher quality and guaranteed bandwidth solutions such as Diginet and fibre," he explains.
"With costs savings being the major driver behind telcos and customers changing their suppliers, everyone simply accepted interrupted and unstable VOIP call quality as the norm, in return for potential savings on their telecommunication bills."
However, he adds, for high-quality VOIP, ADSL is not the solution, pointing out that using ADSL for VOIP services is one of several ways in which the service can be 'under-specced' in a misguided bid to save money.
Selecting technologies based on their perceived lower cost is like putting retread tyres on a brand new car, says Pietersen. "This is not the place to cut corners. If your connectivity is too small to cater for your peak usage requirements, the solution will fail completely.
"Although ADSL offers a high speed, flat-rated connection to an Internet service provider or is used as an access medium to mobility that allows remote users to connect to their Virtual Private Networks, this service does not guarantee any throughput speeds. ADSL operates over the same pair of copper wires used for telephone services, and in most instances, ADSL is provided only in conjunction with a telephone service."
Best-priced option
Graeme Victor, MD of Du Pont Telecom, agrees, saying price is the biggest challenge facing the installation of VOIP and that ADSL is, by far, the best-priced option.
However, he points out that ADSL has no quality of service and varies from one exchange to another. "So the quality can vary from good to very bad. Also, when down, Telkom offers no service level agreement, so it can be down for days."
Another industry player, Bennie Langenhoven, managing executive of Tellumat Communication Solutions, says there are a couple of challenges running voice over ADSL lines.
"If you do use it, you need to be aware of the risks and limitations. Firstly, as you know, ADSL is a best-effort service, which means that the bandwidth is not guaranteed. Secondly, the 'A' in ADSL stands for asymmetric, which, in essence, means that your upload speed is much slower than your download speed," Langenhoven explains.
"Voice is two-way communication, so the maximum number of simultaneous voice calls you can handle depends on your upload speed. It is also advisable that if you run voice over ADSL, you use a dedicated ADSL line for that. If you share it with your normal Internet use and you start downloading huge amounts of data, you may run into voice problems as well."
Nonetheless, Langenhoven believes the main advantage of using ADSL is the lower cost.
Traffic contention
Meanwhile, David Meintjes, MD of Connection Telecom, points to the traffic contention in the underlying ADSL infrastructure as its main limitation.
"VOIP is network-based telephony and is a real-time service, so ensuring that the network is designed appropriately to deliver voice packets consistently with minimal latency and jitter is key," Meintjes notes.
"Diginet, Metro Ethernet and fibre are more appropriate network services for voice. The most important part, however, lies in managing the quality within those networks with appropriate network tools such as Vibe, real-time media tunnelling or expediting voice packets," he concludes.