Solar energy powers Stellenbosch school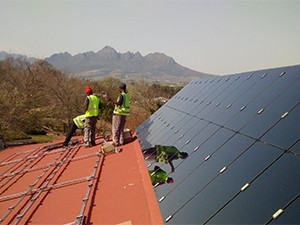 Cape Town-based crowd-funding company The Sun Exchange has helped the Stellenbosch Waldorf School raise money to fund its solar energy system.
The Stellenbosch school will now be able to lease a solar energy system through the co-operative business model that was developed by and is being managed by The Sun Exchange.
Through the co-operative business model, 68 funders of the project, which include teachers and parents at the school as well as international backers, have already helped raise R400 000 to pay for the solar energy system.
According to a statement, the introduction of a solar energy system will help cut the school's energy bill by nearly 15%.
Not only was this the first time a solar plant has been crowd-funded in SA, it is the first time the co-operative business model has been applied to solving the country's energy challenges, the statement notes.
Abraham Cambridge, founder and CEO of The Sun Exchange, says: "The time is right in SA for a new way of earning money backed by solar energy. We need to do this for the sake of the planet and to keep the lights on...Our platform allows anyone to choose to invest in solar energy where they know their money is being put to work by solar-powering a local community."
The Sun Exchange used Somerset West solar installer Green4Earth to install the 136 solar panels on the school's roof.
Green4Earth CEO Aldre van Staden adds: "The Sun Exchange is bringing to South Africa a way for more people than ever before to be able to access the benefits of solar. We were delighted that Green4Earth and our locally employed installation team have been involved in this landmark project."