Data centre climate control
An air-to-water exchange provides cooling efficiencies.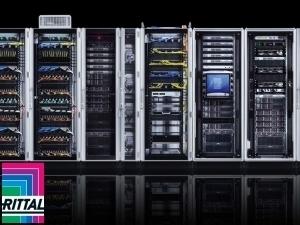 Data centres are the heart of today's IT environment in nearly all medium-sized and large companies. And, as demand for more computing power increases, so does the number of components involved. Increased component density leads to increased heat and increased concern for cooling at the individual rack level. Rittal's TopTherm Liquid Cooling Package (LCP) system has proven to be an efficient solution to cooling concerns. The different variants in the LCP family offer both row-based and rack-based cooling options.
An LCP uses an air-to-water heat exchange. Water heated by hot air generated by various components is cooled down and recirculated through the system. And, the functions of the LCP can be monitored via PC or a management software package.
The design and control system of the TopTherm LCP range make it particularly energy-efficient. Useful cooling outputs are achieved by using inlet temperatures higher than industry stated norms and making maximum use of indirect free cooling. The result is an effective, energy-efficient climate control solution.