MS reveals Surface details, pricing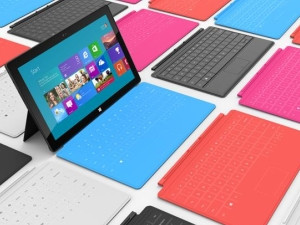 With only a week to go before the official release of Windows 8, Microsoft has revealed new details and pricing for the company's flagship Windows 8 tablet, Surface.
According to Microsoft, the version of the Surface tablet running Windows RT will be available in three different models to start. The entry-level version will offer 32GB storage and will be priced at $499, and will come without a Touch cover. The same tablet with Microsoft's Touch cover will cost $599. The 64GB version, bundled with the cover, is priced at $699.
By comparison, the new iPad has a recommended retail price of $499 for its entry-level 16GB WiFi-only model and $599 for the 32GB WiFi model. The WiFi and cellular version starts at $629 for 16GB.
Some commentators have noted it was surprising that Microsoft is charging extra for the Surface cover, which initially seemed to be a key differentiator. Microsoft says the Touch Covers can be purchased separately for $119.99 and will be available in five different colours: black, white, magenta, cyan and red. Customers who prefer a more traditional keyboard will be able to get a Type Cover in black for $129.99.
The Surface tablet was initially revealed by Microsoft in June, and while the design was widely praised, a big question mark remained over its pricing. Microsoft is yet to reveal details around the Surface Pro model, which will have an Intel microprocessor and will run the full version of Windows 8 Pro - offering users an experience touted as being akin to that of an ultrabook PC.
On 26 October, the Windows RT Surface tablet will go on sale at all Microsoft Stores and online in the US and Canada. It will also be available for purchase online in Australia, China, France, Germany, Hong Kong and the UK. Limited pre-orders will also open at 9am PT today. There is no indication as yet when the tablet will be officially available in SA.
Surface with Windows RT will come with Microsoft Office Home and Student 2013 RT Preview and Xbox Music preinstalled. The tablet measures 10.81 x 6.77-inches (with a 10.6-inch display with 1 366 x 768 resolution and 148ppi), features two 720p HD cameras and 2GB RAM. It also has a USB 2.0 port, a microSDXC card slot and HD video output port. Microsoft has also chosen to opt for only WiFi and Bluetooth connectivity. Further details can be viewed on the Surface Web site.