StorageCraft helps police solve data management challenges of body worn video cameras
StorageCraft for law enforcement provides highly cost-effective, simple and scalable storage solution.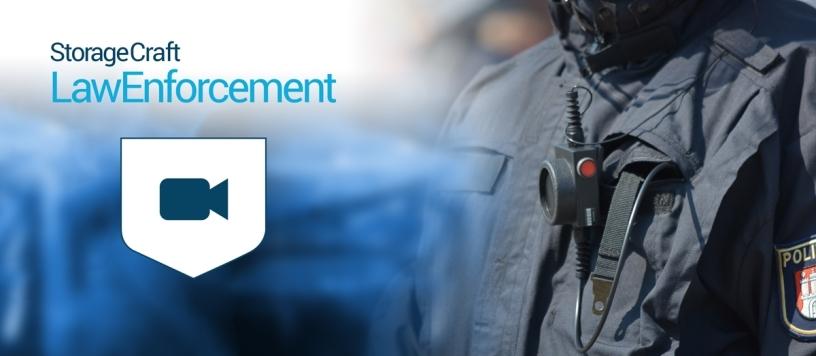 Wanted: a solution to the growing storage capacity and management problems at police departments around the UK.
As police departments increasingly deploy body-worn video (BWV) technology and dash cams, they encounter a significant obstacle: the high cost, complexity and compliance of storing video surveillance footage.
StorageCraft has addressed this challenge by introducing an innovative solution that meets the storage demands of police department surveillance.
The number of police departments rolling out BWV technology is rising quickly, with the West Midlands Police the latest to announce it will provide body cams for 2 400 further police officers.
Research1 from Cambridge University showed that BWV was associated with a 93% reduction in citizen complaints against police officers. Each camera can record up to 12 hours of footage, and anything considered useful as evidence is be stored 'indefinitely.'2 Police forces are quickly finding that storing terabytes of video footage and mounting data storage costs is putting significant strain on their already-stretched budgets.
"The problem is growing, because new body and static video surveillance cameras can now record high-definition video," said Andy Zollo, vice president of sales, EMEA, StorageCraft.
"The resulting video files are much larger and even more expensive to store. Police departments are facing a real wake-up call. They are quickly outgrowing their existing storage and scrambling to meet far greater requirements."
In fact, departments frequently end up with many independent storage silos, all managed and accessed separately. This is not a scalable model, especially given the exponential rate at which body camera and static surveillance video is growing.
All these factors are coming together to create a perfect storm of video sprawl and runaway storage costs. That's why StorageCraft introduced StorageCraft for Law Enforcement, a game-changing solution that is:
Cost-effective. Where other storage products on the market can cost hundreds of thousands over time, the StorageCraft solution starts at a fraction of that cost. StorageCraft customers experience significant savings in storage costs and dramatically increase their video retention ability.
Highly scalable. StorageCraft is flexible and highly scalable. Law enforcement agencies can start with ten terabytes of storage and scale up to petabytes in the same cluster. They can add any number of drives, anytime and in any granularity, to meet their storage requirements. And, when they expand their available storage capacity there is zero configuration and no application downtime.
Easy to manage and replicate. With StorageCraft, setting up remote replication is as simple as three mouse clicks. In under 15 minutes, a law enforcement agency can have a disaster recovery infrastructure installed and replicating. In fact, the software is architected to make storage management and remote replication easy and efficient, without the need for high-level IT expertise.
With StorageCraft, law enforcement agencies can better serve citizens and bring greater transparency to their communities, all while keeping their storage budgets under tight jurisdiction.
An entry-level configuration with 24x7 support costs less than £15k, including 96TB of storage. The solution can be installed and available in less than 15 minutes. As more storage is required, users simply add drives and the capacity dynamically expands the same global file system without interrupting applications or users. StorageCraft's multi-site replication feature means that in the event of failure, recovery can be achieved in minutes.