Environmental drone finds and destroys pests' nests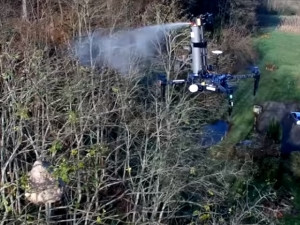 A French civilian drone manufacturer last week debuted a drone designed to locate and destroy the nests of Asian predatory wasps, also known as Asian hornets or yellow-legged hornets.
The purpose of Drone Volt's Spray Hornet drone is an environmental one, as the hornets can pose ecological threats to the areas they inhabit, as they do in France.
Originating from several countries in Southeast Asia, the Asian hornet has become an invasive species in South Korea, Japan, and parts of Europe, including France, where it has believed to have arrived in boxes of pottery imported from China in 2004.
The species poses a serious environmental threat because it feeds on many insects, most significantly bees, which are essential as plant pollinators. A small number of Asian hornets can carry off a much greater number of bees to feed to their larvae, and if the beehive is not gutted by the pests, the bees can diminish their work in their efforts to protect the hive, sometimes to the point that the queen will stop laying eggs due to food and water shortages in the hive.
Drone Volt's Spray Hornet drone aims to make the process of locating and destroying the hornets' nests not only faster and easier, but less environmentally aggressive.
Asian hornets' nests are destroyed by spraying them with pesticide to kill the insects. This process can be time-consuming and dangerous for humans, as it often involves using poles or ladders to reach nests on roofs or in treetops. The precariousness of these positions can also mean the spraying process is imprecise.
Using the Spray Hornet drone to locate the nests (using its on-board video camera) and destroy them (via its inbuilt spraying mechanism), is not only faster, less labour-intensive, and less dangerous for humans, but offers more precision and less unnecessary pesticide spread, as the drone's tilting aerosol jet can be aimed at the central part of the hornets' nest, where the insects are located.
The drone was developed in collaboration with long-time beekeeper Etienne Roumailhac, and does not use sulphur.
Drones are seeing uptake in environmental conservation fields due to their low price and ease of use compared to more traditional methods of data collection, according to aerial imaging drone company Sensefly.
Other environmental applications for drones include flock or herd counting, fire detection and tracking, and erosion monitoring.