Razer unveils iOS gamepad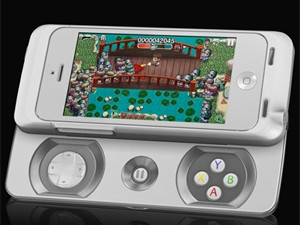 Gaming company Razer has unveiled the Razer Junglecat gamepad for iOS.
Leveraging its significant experience developing high-performance gaming controllers for console and PC, Razer's entr'ee into mobile phone hardware offers gamers a combination of gaming-grade control and customisability with unimpeded phone access, the company says in a statement.
"Game development is cascading into mobile with incredible production values and at a record pace, and the crossover of console gamers playing on their iOS and other mobile devices is growing in stride," says Min-Liang Tan, Razer co-founder, CEO and creative director.
"The opportunity to design a sleek, high-performance gamepad controller for the iPhone was an exciting proposition that we can't wait to share with our community and the world."
Razer states that users can leave the Razer Junglecat attached, as all buttons and ports remain available in its pocket-ready compact form. At only 20mm thin, the controller feels like a standard protective case.
The Razer Junglecat comes with a downloadable iOS app that lets users remap and define its button functions, as well as adjust pressure sensitivity according to preference.
Up to 20 personalised profiles can be stored on the app, says Razer, allowing users to select a corresponding profile for their favourite games.
According to Razer, the chore of finding games for iOS controllers is made easy with the Razer Junglecat iOS companion app.
It concludes that the software keeps gamers up-to-date on the latest titles optimised for controller play, scouring the entire App Store for titles that are perfect for a player and his or her iOS controller - whether it is a Razer Junglecat or another brand's iOS compatible controller.