Smart cities
Data analytics transform urban living.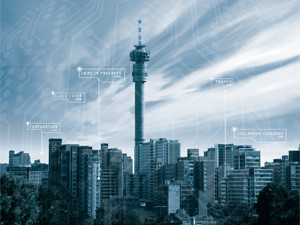 In 2008, for the first time in history, the majority of the world's citizens were living in cities. This is a figure that is expected to reach 70% to 80% in the next 20 years.
While a century ago, fewer than 20 cities around the world had populations in excess of one million people, that number has now swelled to 450 and will continue to grow for the foreseeable future. In SA, it is also predicted that, by 2050, more than 80% of the population will be living in cities.
Considering the challenges that already exist, the ever-increasing population will provide a daunting task for city management. As cities continue to grow and develop across the world, pervasive information and communication technology also provides great opportunities for leveraging data for the benefit of city operations.
With over one billion transistors for every person on the planet, and over one trillion things connected to the Internet, the collective intelligence that can be harnessed is a powerful potential resource.
IBM's 'smarter cities' initiative pushes the digitisation of a city's systems, turning the workings of those systems into measurable data points.
"Literally everything today in some way, shape or form is producing information. Whether it's our cellphone that knows our location, buildings where energy is managed efficiently and producing information, or an electronic weather system, traffic system, you name it. There's an enormous opportunity for cities that face these big challenges of growth and business development, to leverage information technology to greatly enhance the operational efficiency and quality of life for citizens," says IBM's lead for smarter cities, Meenaji Venkat.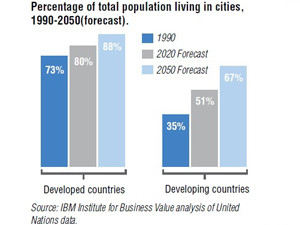 "As the world's population continues to move to cities, several of the world's cities in the next two decades will be the size of New York City - that's quite frightening," says Venkat.
"We also know that cities consume most of the world's power, water and other resources. This means we have to look at what the impact we are going to have on our environment is, and secondly, people come to cities because there is economic opportunity, so we have a chance to build these new cities with newer ways of doing things from the beginning."
Venkat says while there has always been some form of city management, it has generally not been data-driven. "Town planning is an ancient science, but now we have to improve it with data and analytics. The other core function of a city is safety and security planning. The new security involves using analytics to improve the policing. The use of data around what the threats are and how to deal with them, including emergency response and the delivery of services."
Rio de Janeiro, in Brazil, has become one of the first cities in the world to gain 'smart city' status with the establishment of a centralised command centre that integrates more than 30 city agencies. The command centre helps the city improve emergency response co-ordination, manage increased traffic, and predict and counteract natural disasters.
Data is pulled from sensors and video feeds from around the city and used to create real-time maps and graphs. The system also allows city officials to alert the public of impending danger and dispatch emergency support.
"If you look at the geography of Rio, poor people are living in the slums up on the hills, with the more wealthy suburbs down below. The rains cause flooding, and flooding causes landslides and people die, and this is entirely avoidable," says Venkat.
"They are now able to say where exactly it's going to rain, down to a few square blocks of a city. Then they can perform a flood prediction analysis, and use that to drive standard operating procedures and co-ordinate the emergency response, from the fire department to rerouting traffic. All of these things have traditionally been done with radios. This technology brings it out of the radio age, into the current age."
Unique challenges
From an infrastructural perspective, Venkat says the smarter cities approach puts the focus on reducing the environmental impact of cities and improving energy efficiency.
"In the US, if you contaminate drinking water sources, the environmental protection agency fines you. The city of South Bend, in Indiana, used to pay millions in fines to the EPA because sometimes the storm water drains would overflow. This was happening because they didn't have good analytics on the water levels and what was happening. But using data from the storm water drains and creating and responding to prediction models allows them to prevent those things from happening. This is the evolution of how cities will function in the future."
According to Venkat, there are currently 2 000 smarter city deployments around the world. "No single deployment is the same or uses all of the elements. There's no such thing as the 'smartest city'. The whole point of this technology is that you have to focus on problems specific to your city."
For example, Los Angeles uses some of the technology to focus on the problem of gangs and violence in the city. By using analytics, it has discovered that when there are numerous reports of car theft in a specific area, it can use that information to anticipate a gang incident shortly after because there has been found to be a correlation between such incidents.
"Memphis also uses predictive analytics to tell where and when to deploy police officers to reduce crime rates. It becomes about what the local leadership wants to do with this ability," says Venkat. "Another example is where some cities show people their water and electricity usage relative to their neighbours' in order to encourage behavioural change."
In the city of Zhenjiang, China, an Intelligent Operations Centre (IOC) has been set up to transform the city's public transport system. The IOC acts as a central point of command for the city's 570 bus stations and over 2 000 public transport vehicles.
The IOC provides city managers with a consolidated view of the transportation network, and enables them to initiate a new bus scheduling system that uses analytics technologies to manage traffic patterns and over 100 routes across the city. The system also allows for the improvement of the experience for citizens at bus stops by providing accurate information on expected arrival times, and information on how their personal routes may be affected in the instance of delays.
Another example of a smarter city project implementation is that of Davao, Philippines, in which the Public Safety and Security Command Centre (PSSCC) has been established to create a single, centralised operations dashboard for all elements of public safety. "The mayor was able to route all emergency calls through the centre, so all these different forms of information are collected and the centre is given a better overview of what is happening. City officials are now also able to co-ordinate different departments to respond to different incidents, and track the status," says Venkat, adding that Geographic Information System (GIS), video feeds and GPS-enabled patrol vehicles also help to improve the real-time situational awareness for the officials in the field.
An "early-warning" system has also been installed to monitor key risk indicators in order for the various city agencies to anticipate impending issues and collaborate to address them as efficiently as possible.
New normal
On the African continent, a city in the earlier stages of working towards becoming a smarter city is Nairobi, Kenya. Rapid population growth is piling increasing pressure on the city's infrastructure and some of the key problem areas that have been identified in Nairobi include traffic congestion, energy and safety.
Kenya has become a pioneer in mobile payment and money transfer systems, such as M-Pesa, creating some of the world's most innovative technologies and services in the field. Also with a mobile phone penetration rate of over 70%, mobile technologies present a strong platform for potential solutions to Nairobi's urban challenges.
For example, solutions currently being looked at include using mobile technologies to help manage traffic and identify parking spaces, co-ordinate emergency services and healthcare workers, identify and report risks - all of which could have a role to play in transforming the city. The Nairobi City Council has also only recently started the process of digitising and centralising records from all 16 city departments - which have all, until now, been operating independently with their own data.
Accra, Ghana, recently received a Smarter Cities Challenge grant from IBM, which saw a team of experts live and work in the city for three weeks before delivering a blueprint to city authorities to enable more efficient revenue management.
Mayor of Accra, Alfred Vanderpujie, says: "Accra's rapid growth presents a unique set of challenges. In particular, as a city authority, we struggle to capture and retain all income from the services we provide."
The city is now looking to implement a multi-channel, automated direct payment system that can allow citizens to pay for services from the city, ranging from garbage collection to parking fees, via their mobile phones.
The payment system would also create opportunities to use analytics to identify underpayment and fraud, which currently sees the city lose up to 50% of its potential income. The city is also looking to leverage GIS technologies to effectively map and monitor Accra's rapid urban growth in real time.
"Accra is in a unique position to create a new normal for cities in Africa through the innovative use of technology," says country GM for IBM Ghana, Joe Mensah.
Part of the solution
Venkat explains that another key element of the smarter cities project is what is called social programme management or human services. "This deals with the transformation in providing care for children and social services, disability, healthcare and those things that become really important when the majority of the population is in an urban area.
"With the smarter cities approach, the focus is essentially on analytics, collecting data in real time and the ability to co-ordinate this across multiple city agencies. It also allows for crowd-sourced information from citizens - the ability to communicate with citizens is built in. So it draws them in to be part of the process of improving their own quality of life."
Venkat adds: "These days, there are many instances in which citizens and the media get to incidents or at least know of incidents before public officials. Now governments have the opportunity to leverage that, and instead of treating the citizen as a nuisance, you can treat them as part of the solution."
In SA, 11 teams of IBM experts have worked in cities in Mpumalanga, Limpopo, Eastern Cape and Gauteng on smarter city projects. Last year, IBM and the City of Johannesburg (CoJ) announced they were collaborating to develop a five-year public safety strategy. The collaboration forms part of the CoJ's plans to become a smarter city as part of the Growth and Development Strategy (GDS) 2040.
MMC for Public Safety for CoJ, councillor Matshido Mfikoe, has said the City of Johannesburg strives to become a smart city, and public safety is a priority in that regard. "It's a priority that requires creative thinking in order to find effective long-term solutions.
"Community safety and fulfilling our approach towards becoming a smarter city is not just about curbing crime. It is about a multitude of factors at the level of the individual and community that contribute to the wellbeing of the city's people - for example: traffic safety; hazards such as fire, weather-related, and environmental factors; crowding and conditions of deprivation; family systems; and community network," says Mfikoe.
Earlier this year, the City of Tshwane was awarded an IBM Smarter Cities Challenge grant, which provides the city with access to teams of IBM experts who will provide city leaders with analysis and recommendations to support better delivery of municipal services and improved efficiency.
This month, a team of IBM executives from the Smarter Cities Challenge programme have been working with the City of Tshwane to improve the city's water management system. The outcome of the initiative will be a proposed roadmap to the City of Tshwane to help grow the city economically by addressing water wastage, water quality and water revenue.
"Water systems are essential to the growth of the economy. With deteriorating resources and exponential growth in water demand, an alarming percentage of SA's water is going to waste. Water leaks alone account for many lost litres per day. Without smarter water management, the ability of the water system to meet the critical needs of people and business will be even more challenged," says IBM.
Mind shift
According to Venkat, a problem in many emerging economies is the lack of co-ordination between city agencies. "The pattern I have found in how this is implemented is that it usually takes somebody in a leadership position to say 'I'm going to lead the way in this particular area' and nobody really does all of the areas. I don't have a single city that's doing all of them. The leader has to identify the biggest problem area for their city and then focus on how to change that particular thing," says Venkat.
"The other thing I have seen is that they also focus on change within the city management. In Rio, for example, they actually created the position of city manager, somebody who would oversee the operations centre. So they lead organisational change and make the decision about whether or not they are going to do it, and they invite citizens and private parties to engage. That's what it takes to make this change happen.
"Cities must take account of the interconnected challenges they face and the interrelated systems they influence. This is a journey for cities, not an overnight transformation. But the first step requires a shift in thinking and a break from the past."