Review: HTC One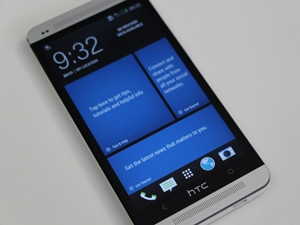 The HTC One has to be one of the sexiest devices of the year, if not ever. A bold statement, perhaps, but I can safely say I have never found a smartphone more beautiful to hold. The One packs a mean punch, too, so it's not just a pretty face.
The Taiwanese manufacturer focused its attention on this flagship device this year, and after having had the One for a few weeks, it's easy to see why.
Look and feel
The HTC One features an aluminium "zero-gap" body that takes 200 hours to manufacture. Weighing in at 143g, the One is lighter than HTC's previous aluminium body device (the HTC Sensation), but heavier than its predecessor, the One X. Although heavier than its main rival, the Samsung Galaxy S4, the One has a solid and classy feel to it.
The 4.7-inch 1080p (1920x1080 pixels) Super LCD 3 screen delivers an unparalleled 468-pixel density, making the display crystal clear in both low-light and daytime conditions.
Interface and performance / usability
The One runs Android 4.1.2 (Jelly Bean) and HTC's latest customised interface, Sense 5. It's quite a bit different from the previous versions of Sense, with HTC opting for a less-is-more look - and it certainly is pleasing on the eye.
Sense 5 brings with it BlinkFeed, which serves to aggregate social networks and news feeds into a tile interface that looks a lot like the interface one would find on Windows Phone. I was initially sceptical about this feature, thinking it would only benefit users in countries where mobile data is significantly cheaper. However, I found the data usage rather minimal, considering I'd subscribed to two separate news feeds along with my Facebook and LinkedIn accounts.
Another feature of Sense 5 is Zoe - a camera feature that takes 20 photos and three seconds of video with one press. While the idea of sharing these short videos sounds a bit gimmicky, the other uses are more impressive. The Sequence shot feature will merge a number of sequence shots together in one frame.
Zoe also allows users to take perfect group photos by letting them pick the best face for each person and also lets users remove unwanted people and objects from a photo.
Another fantastic feature is the ability to edit videos so users can select variable playback speeds. Why, you ask? For that dramatic experience, of course.
While we're talking about the camera, it's important to discuss HTC's controversial move to a 4MP "ultrapixel" camera while all other manufacturers are moving toward 13MP. The reason is that HTC wanted to allow for bigger pixels, which, in turn, offer much better images in low-light situations. But does it actually work? It certainly does - the difference is astounding when tested against the Samsung Galaxy S3.

In terms of apps, the One comes preloaded with the usual suspects - Facebook, Twitter, Google Apps (Gmail, Talk, Maps) and YouTube. It also comes with a handy Kid Mode app, which will prevent little ones deleting important files or accessing inappropriate content. The app is powered by Zoodle.
The Car app automatically launches when the One is connected to a car dock and provides a large interface, allowing for easy access to Internet radio stations via TuneIn, as well as to navigation, the dialler, music, voice command and contacts.
With dual microphones that use active noise cancellation, the call quality on the One is excellent. The sound received by the top speaker grill is also crisp and clear.
I was glad to see the One ships with both HTC's Internet browser and Chrome. One of the advantages of Chrome is that the browser allows users to sync passwords and browser history across platforms - so when users have accessed a site on their PCs, they can easily find it again on their mobile devices. In terms of performance, both browsers work equally well. Zooming and scrolling was smooth and precise, and I was also impressed with how quickly the device switched orientations.
Hardware
To match its beautifully crafted exterior, the One is also a powerhouse under the hood, with its quad-core 1.7GHz Krait 300 processor and Adreno 320 GPU. If you enjoy playing games on your smartphone, you'll truly enjoy the immersive BoomSound technology delivered by the stereo speakers, not to mention the amazing particle effects the One is able to render in games like Nova 3.
Battery life
This is where I was duly impressed with the HTC One. The 2300mAh battery delivers a little over 13.5 hours of talk-time, and roughly 10 hours of Web browsing or video playback on a full charge. Unfortunately though, the battery is non-removable.
The One is available in the fairly mundane 32GB and 64GB varieties and does not feature any removable storage slots - a big negative in my books. While the storage capacity should be enough for users' mobile needs, the issue of backing up one's data in the cloud becomes a problem for local users, as mobile data is still rather pricey.
In a nutshell
The HTC One certainly delivers on its promises: a simple and intuitive interface, a gorgeous design and incredible performance.
Slick, sexy and outright outstanding, HTC's latest flagship is certainly one to consider this year.