Sxuirrel app helps university students find storage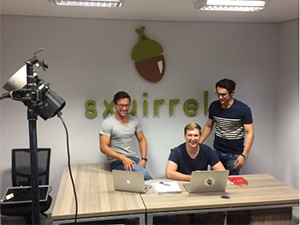 A local Web based and mobile app, Sxuirrel, designed by a group of three Stellenbosch students aims to help users find available storage space.
The peer-to-peer platform, introduced in April, connects small short term storage seekers with homeowners who have additional space. Hosts can list available storage space on the platform, and storage seekers can search for their preferred solution through in-app filters, finding space to store belongings such as furniture and equipment.
The app has an integrated messaging system that allows users to contact storage providers directly. An automatic scheduler notifies providers of the messages and the company gets a 15% trade commission from the storage providers as its primary revenue stream, adds the company.
Founders, Michael Louis, 21, lead software developer, together with Michael-John Dippenaar, 24, CEO and Henri Bam, 24 COO, say the idea was sparked after realising common storage challenges faced by residence students. "As students who lived on campus we identified with the problem, so we were inspired to develop an innovative solution," says Dippenaar who is also doing his honours in financial analysis.
Although the app predominantly focuses on students and storage space, Dippenaar says the company aspires to become a go-to brand for finding different kinds of space, such as venues for weddings or 21st birthday's parties, including a pick-up and delivery service for stored equipment.
"So what we're looking at in future is to expand the app to incorporate a subscription-based model where traditional storage companies can also list their space," he says.
The start-up also plans to expand the app to other universities countrywide. At the moment the app has about 200 downloads, and 40 listings of storage providers from around Stellenbosch, Cape Town and Pretoria.
To help establish the business, the group won a cash prize of R20 000 as well as incubation office space and mentorship from LaunchLab's ideas program , an innovation challenge which took place last year.
Sxuirrel is currently accessible on the iOS platform, with the Android version expected to be launched in August this year.