Telkom expands mobile data offering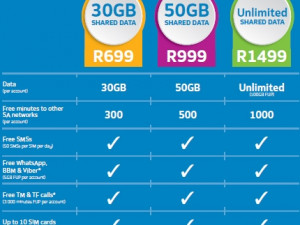 More customers will be able to take advantage of Telkom's data-led cellphone product, as the mobile operator has introduced packages that specifically cater to families and small business.
Yesterday, Telkom unveiled the FreeMe Family product offering, which is a family-sized mobile data-sharing plan.
According to Telkom, the introduction of a family-oriented mobile data plan is on the back of the success of the FreeMe product that allows customers to choose how much data they want, with free calls and text messages.
Some 260 000 Telkom FreeMe connections were sold in the first three months of its launch last year, the mobile operator has revealed.
A standard FreeMe Family plan comes with one primary and three multi-SIM cards, but up to six additional SIMs can be added at R9 per SIM per month.
Speaking at the launch event yesterday, Telkom's consumer managing executive of customer value management, Bertus Van der Vyver, said FreeMe Family will allow customers to budget how much they spend on mobile data per month.
FreeMe Family customers will able to choose between mobile data sizes of 30GB at R699 per month, 50GB at R999 per month, or unlimited at R1 499 per month. This includes 300, 500 or 1 000 shared minutes respectively.
The primary SIM card-holder can allocate benefits to family members according to the household's needs. Additionally, consumers receive 10GB of WiFi per SIM per month, 3 000 on-network minutes per account, 50 SMS messages per a SIM per day, and free instant messaging and VOIP calls on WhatsApp, BBM and Viber.
Just like the FreeMe product, customers will be able to make free calls to numbers on the Telkom network.
The introduction of Telkom's FreeMe offering changed the way mobile companies sell cellphone contracts, said Van der Vyver. "Customers want to be able to share. We expect the FreeMe Family to be as new and exciting as the FreeMe product."
He added: "FreeMe Family brings the concept of sharing into the FreeMe product. Within the family account, the primary SIM will allocate a specific amount of data for each of the family members added onto the account.
"If a family member runs out of data halfway through the month, the holder of the primary SIM will be able to top-up that member with no data."
Customers can sign up for the three FreeMe Family data plans at any Telkom store.