Qualcomm teams up with giants for Windows on Snapdragon PC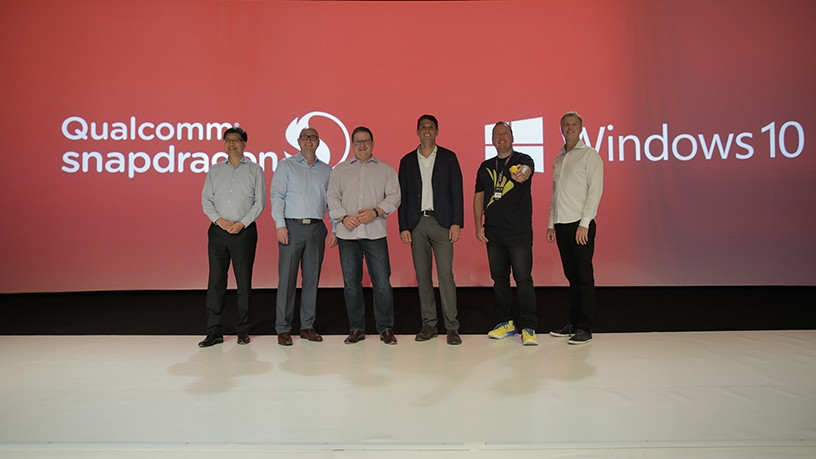 Semiconductor and telecommunications equipment maker Qualcomm has engaged with several PC makers and tech companies to advance what it calls the 'always connected' PC.
During the second annual Qualcomm Snapdragon Technology Summit in Maui, Hawaii, Cristiano Amon, executive VP of Qualcomm Technologies, said Qualcomm "continues to transform the way people use their mobile devices".
"We are excited to highlight our role in the mobile ecosystem while we continue to execute on our strategy with Microsoft for the always connected PC," said Amon.
The always connected Windows 10 PCs are powered by the company's Snapdragon 835 mobile PC platform. These laptops also come with up to Gigabit LTE connectivity.
Amon was joined on stage by senior executives from Microsoft, Asus, Sprint, HP, AMD, Xiaomi and Samsung Electronics, each delivering technologies and products using Qualcomm Snapdragon processor.
Terry Myerson, executive vice president of the Windows and Devices Group at Microsoft, reiterated their collaboration and the progress made over the last several months, to deliver Windows 10 on Snapdragon.
"Always connected PCs are instantly on, always connected with a week of battery life," said Myerson. "Powered by the Snapdragon 835 Mobile PC Platform, these always connected PCs have huge benefits for organisations, enabling a new culture of work, better security and lower costs for IT."
Also present was Jerry Shen, chief executive officer of Asus, who announced the first Windows on Snapdragon device - the 2-in-1 convertible ASUS NovaGo, expected to be available early next year.
"Today marks the beginning of a new era of personal computing and ASUS is proud to be paving the way with Qualcomm Technologies and other companies to develop this new landscape for 'always connected' Windows on Snapdragon PCs," said Shen.
"ASUS NovaGo reinvents the concept of laptop connectivity and productivity - it's the world's first announced laptop that is connected virtually anywhere, at any time, with the new Gigabit LTE network and lasts up to 22 hours on a single charge for 'all-day' battery life."
Kevin Frost, VP and GM of consumer personal systems at HP Inc, also joined Amon to announce a detachable HP ENVY x2 Windows on Snapdragon Mobile PC.
The first Windows on Snapdragon device - the 2-in-1 convertible ASUS NovaGo - is expected to be available early next year.
According to Frost, this new class of PC can support an always-on and always-connected experience with Gigabit LTE speed.
It also supports beyond all-day battery life and thin, sleek, fanless PC designs, all while incorporating Windows 10, he noted.
"Mobile intensive customers want a versatile device that keeps up with their busy lives and lets them be connected to everything that matters when they need to," he pointed out. "The HP ENVY x2 is designed to go everywhere with an incredibly thin and durable design built to be always connected with ultra-fast 4G LTE and Wi-Fi."
Mobile operators are also supporting Qualcomm's initiative with G"unther Ottendorfer, chief operating officer of technology at US telecommunications company Sprint, announcing its support for the new always connected PC category and its desire to deliver unlimited data to the Windows on Snapdragon ecosystem.