Paul Steyn reaches the finish line!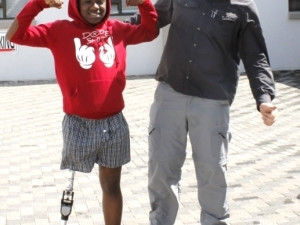 TomTom South Africa and Tracker are celebrating the successful completion of Paul Steyn's epic 13-month fundraising walk across South Africa. After more than a year on the road, Paul crossed his route's finish line in Cape Town on Friday.
As was announced earlier this year - click here for the story on IT Web - TomTom South Africa and Tracker have proudly supported Paul Steyn's campaign by partnering to track his walk's progress and make it viewable online.
On the road since 3 August 2015, Paul has walked through all nine South African provinces to raise awareness around the challenges faced by disadvantaged amputees and to raise funds enabling them to receive prosthetic limbs.
On Friday (December 2), Paul ended his campaign on a high note by arriving in Cape Town in time to join the City of Cape Town's International Day for People with Disabilities celebrations in Green Point.
Paul has carried a TrackerActive GPS tracking device with him that has reported his position to an online map developed by TomTom South Africa, enabling his family and campaign followers to track his progress.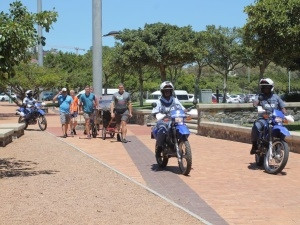 TomTom's philosophy is to help people to move from A to BE - empowering them with the knowledge they need to make the best decisions - and the map improved Paul's safety on even the remotest stretches of roads by creating awareness of his current location.
"Both personally and on behalf of the Paul Steyn Foundation, I want to thank TomTom Maps and Tracker," said Paul. "I have been sincerely humbled by, and thankful for their support."
The Paul Steyn Foundation has shared the latest statistics on Paul's walk:
* With his route initially planned to be just under 7 000km, due to security and logistical considerations on the road Paul walked 6 400km.
* Paul left Cape Town 15 months ago at the start of his route, and has been walking for 13 of those months.
* He has visited over 120 towns and cities along his route, and has spoken to around 100 000 school children!
* Paul walked 5 500km of his route unassisted, with no back-up vehicle to support him.
* Paul helped six amputees along his route to receive prosthetic legs. Two of the legs were sponsored by orthotists, and the other four were purchased at a cost of R400 000.
* Paul raised approximately R500 000 from members of the public and small businesses.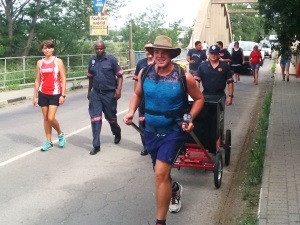 According to the Paul Steyn Foundation, their database has 150 amputees who still need assistance. Anybody who is able to offer support can contact them through their Web site: www.paulsteynfoundation.org.za
Paul says that he is happy about the awareness that he has managed to raise throughout walk, and he is committed to continuing the good work.
"My long-term dream is to have a complete mobile facility, with an orthotist, workshop, rehabilitation section and living space that can be taken to rural areas to assist those who do not even have the means to contact us for help," he explains.
TomTom South Africa and Tracker congratulate Paul on the completion of his journey and wish him and his foundation all the best in their future efforts!