Jumping off the hamster wheel
Darlene Menzies, a graduate from the school of hard knocks.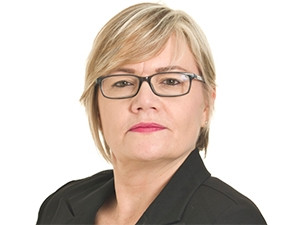 A conversation with Darlene Menzies is incredibly easy. You ask a question, then sit back while she talks for several minutes.
She speaks quickly and with purpose, covering entrepreneurism and failure, highs and lows, sharing anecdotes and advice.
Menzies once lost her home and her furniture when her software company, The Development House, failed, but she bounced back and believes you only appreciate success after knowing the taste of failure.
The first part of her career was more mundane, but still impressive given her background. "I was the first person in my extended family to get a matric. I left school and I have never studied anything since," she says.
She became a bank teller, until her flair for management saw her promoted to the IT department. Then she joined Business Connexion to manage corporate accounts. Her direction changed when she became a Christian.
"I 'found' myself and started to look at what I was doing and the reasons I was doing it. I felt I was on a hamster wheel."
She felt a calling to help others, and began matching homeless people to jobs in Durban, where she lives. Then a sabbatical working with a poor community in Malawi persuaded her she was finished with corporate life. "It's nothing to do with being noble, I'm not wired like that, but I'm claustrophobic and the thought of 9-5 wasn't for me."
A socio-economic impact
Back in Durban, she realised there was no system linking together all the information an NGO held about the people it helped, such as who received grants and which skills each person had. So Menzies offered to set up a database by collaborating with her software developer flatmate. The NGO loved it and commissioned another to manage an HIV vaccine project.
By chance, a visiting Harvard professor saw it and needed a similar system for a Harvard research centre. "I got this call asking whether I'd go to Harvard, and I thought it was a prank call!" Menzies laughs. It wasn't, so she flew to America with the software developer.
Businesses can say what they like in their slogans, but corporations and innovations are separated at birth.
To formalise her business, she created The Development House (TDH), designing software with a socio-economic impact. Another of its products is JobLinks, which matches the skills of unemployed people with companies looking to hire. It's now used by Mr Price for its JumpStart programme, which has trained 10 000 unemployed matriculants.
But these successes came with hard lessons, including the need to stay lean. "You have to keep your overheads low, drive a crappy car and be wiling to live in a house with no furniture. My first two attempts to get TDH going ended in liquidation. The first time, I lost R150 000; the second time, I had to retrench all the staff and took a hit of R1.2 million. I lost my house and car and was in massive debt."
Small businesses
Clawing back from that disaster sparked the idea for SMEasy, Menzie's prize-winning accounting system for entrepreneurs. "I realised I had failed because I didn't understand financial management and accounting.
I'd tried Pastel and Quickbooks and they're great for accountants, but they didn't make sense to me. I thought, imagine if you could develop a system that entrepreneurs understand and it produces all the stuff a bank needs."
SMEasy won the 2010 National Innovation Entrepreneur of the Year Award, and Menzies went on to raise R2.5 million from venture capitalists. She's now completed four more rounds of funding and is finalising a deal for a telecoms company to supply SMEasy to its customers. Banks and telcos want to target the small business market, but don't know how, she says, so bundling an enticing offer like a free licence for SMEasy with their services could win them a lot of new business and customer loyalty.
The deal will also be brilliant for SMEasy by opening up a massive customer base, especially since it has been Africanised with multiple languages and currencies.
TDH now works as an innovation hub to test new ideas, which can be spun off into separate businesses if they start to fly. Another of those is FinFind, which has been backed by USAID and helps companies access finance. "You need an environment for the seed of innovation to take root and grow," she says.
Buy-out offers
Despite these successes, Menzies isn't a geek. "Everything I do is technology-based, although I don't know about technology," she says. "Innovation is about solving a real problem and it's usually one you have experienced because once you've experienced the pain, you know how to solve it. Build into the gap of what people need and the product sells itself," she says.
But having the idea alone is useless. "You have to have the balls to do it. You have to have the courage to go through very lean periods and push the elephant up the hill."
Some companies have made buy-out offers, but she's refused because they would want to buy her, too. "I'm reticent about that relationship. I don't get in lifts because I'm claustrophobic and I'm not married because I'm scared of commitment," she says. "If I got signed into a three-year contract in a corporation with a massive salary, I wouldn't work 11 hours at a time. It totally saps the whole basis of innovation. Businesses can say what they like in their slogans, but corporations and innovations are separated at birth."
Her best advice to startups is to keep it lean and to stay self-funded. "Stay on your own for as long as you can, and when you take on someone, make sure they share your value system and are differently skilled so you get the best productivity and the most enjoyment. It's like choosing a marriage partner - just because they tick all the boxes doesn't mean there's chemistry."
This article was first published in the June 2016 edition of ITWeb Brainstorm magazine. To read more, go to the Brainstorm website.