ICASA to push through with R430m budget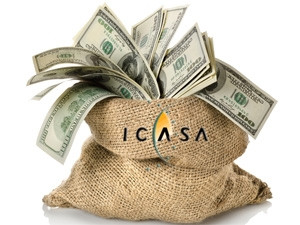 Having received the largest chunk of the communications ministry's budget, the Independent Communications Authority of SA (ICASA) will have to ensure these funds fulfil its wide-ranging mandate during this financial year.
While ICASA's budget is significantly more than other department entities, the budget must be sufficient to meet the targets of the entity that oversees SA's broadcasting, telecommunications and postal sectors.
The regulator has on previous occasions appealed to government for additional funds.
Tabling the department's R1.42 billion budget vote for the 2017/2018 financial year in the National Assembly, communications minister Ayanda Dlodlo said ICASA has been allocated a budget of R430 million.
State communications arm, the Government Communication and Information System, also received a significant share of the budget, with R404 million in the current financial year.
Budget allocations for other entities include: Brand SA with R194 million, R100 million for the department, the Film and Publications Board has been allocated R91 million, R173 million for the South African Broadcasting Corporation, and R30 million for the Media Development and Diversity Agency.
"This funding will be used to accelerate our mission to create an enabling environment for the provision of inclusive and universally accessible communication services to all South Africans in a manner that promotes socio-economic development and investment through broadcasting, new media, print media and other new technologies, and brand the country locally and internationally," said Dlodlo.
Pressing issues
Dlodlo also highlighted some of the plans ICASA is currently working on, as well as strategic focus for this financial year.
According to her, ICASA is working to increase competition in the broadcasting sector, with an investigation into SA's pay-TV industry, while also promoting choice and diversity in the free-to-air TV broadcasting sector.
She explained: "The new local content regulations published in 2016 for effective and impactful broadcasting will be effective in September 2017 and for TV broadcasting services in March 2018.
"The implementation of the local content quotas for the current regulations shows that sound and TV broadcasting services are already generally compliant with the quotas."
As regulator of the telecoms sector, ICASA is also charged with overseeing the cost to communicate among South African citizens.
During the 2017/2018 financial year, ICASA will facilitate investment and access to broadband infrastructure for sustainable socio-economic development, said Dlodlo.
"It will also promote competition and facilitate access to a broad range of communications services at an affordable cost."
Last week, telecoms and postal services minister Siyabonga Cwele reiterated government is looking to address the high cost to communicate in the country.
According to Cwele, last year he issued a policy directive to ICASA to prioritise the commencement and conclusion of an inquiry and the prescription of regulations to ensure effective competition in broadband markets.
He said the department is still awaiting concrete interventions from ICASA. "The response from the regulator suggests they will finalise this work in the next two to three years. The speed of intervention is critical in a rapidly evolving sector such as ICT.
"ICASA's State of ICT Report seems to suggest lack of competition, particularly by dominant players. The report indicates data traffic increased by 55%, data revenue increased from R30 billion to R38 billion, employment decreased by 4 000, yet prices remain sticky at the same level."