A5060 Circular Polarised UHF Antenna for seamless, effective tracking in your work space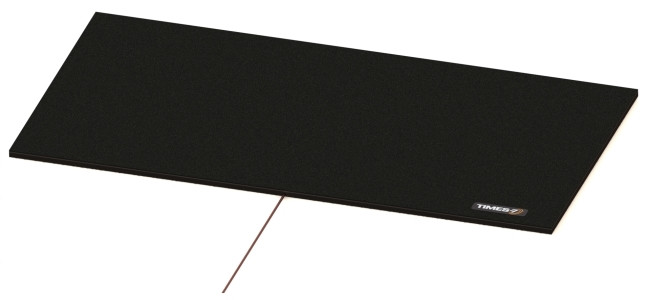 The newly developed A5060 Circular Polarised UHF Antenna from Times-7 makes use of cutting-edge radio frequency technology to make tracking of assets simpler for warehouses, factories and automated facilities.
High-gain: low-profile
The circular polarised antenna increases tracking range in your facilities by eliminating dead-zones, which allows for real-time tracking of all of your assets. Furthermore, the A5060 boasts a slim-line design of just 600mm by 300mm by 8mm, meaning it can be seamlessly integrated into your set-up without the need for substantial changes to it.
These devices can be easily fitted behind ceiling tiles to keep integration behind the scenes. They are also fire retardant, which means they meet standard building material specifications.
The A5060 is also IP65 compliant, which means it is durable, dust and water resistant, making it perfectly applicable to harsh environments and outdoor measurements.
The A5060 is a versatile solution, and makes measurement tasks simpler when applied to a number of unique industries and applications:
Industrial portals and outdoor applications
The A5060's inclusion of circular polarisation makes it ideal for better asset tracking since it affords a wider range with less interference even in the most densely populated areas. This technology allows for more accurate readings during real-time tracking that covers a wider area. Since the A5060 meets the IP65 standard, it is also dust and water-spray resistant, meaning it will perform admirably as a weather resistant, durable antenna.
Vehicle tolling and access control
The A5060 facilitates a 25-degree narrow beam, which is ideal for tracking moving targets at a relative distance. By fitting vehicles with tags, their movements can accurately be read from a distance, making the antenna ideal for outdoor tasks concerning vehicle movements.
Tool and equipment tracking
Many industrial antennas are unsuited to tracking metallic tools since they generally provide too much interference on account of the materials they are made of. The A5060 combats this by incorporating a multi-element design in its makeup, which assists with eliminating interference from metallic items; which means it can be used to track tools that have been fitted with on-metal tags.
Warehouse shelving
The A5060's compact design makes it perfect for warehousing tasks where range and the availability of space are regarded in equal measure. Since it is only 600mm x 300mm x 8mm, the A5060 can be used with warehouse shelving with minimal impact on available space. The multi-element antenna also allows for greater range and fewer dead-spots, making tracking an all-round easier task.
Laundry applications
Industrial laundry applications pose challenges to measurement and tracking through an environment that is harmful to electronics, and one that is not easily measured. The A5060 has a high range that can penetrate densely packed loads to achieve accurate readings, while its IP65 compliance ensures the device is protected from water jets during the laundry process when used on hygiene tables.
Contact Osiris Technical for more details on this product
It is plain to see how the A5060 can revolutionise tracking tasks in a variety of industries. If you would like to find out more information on this appliance, feel free to contact Osiris Technical Systems for further details on this and our other measurement computing products.