Nyati, Dwolatzky - 2013 IT personalities of the year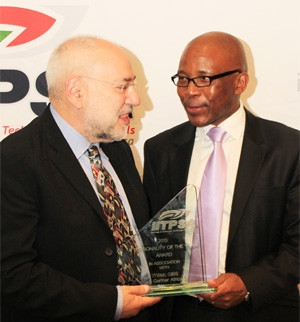 Mteto Nyati, Microsoft SA MD, and Barry Dwolatzky, director of the Joburg Centre for Software Engineering, are the co-winners of 2013 IT Personality of the Year Award.
The winners were announced during the Institute of IT Professionals SA (IITPSA) President's Awards ceremony at Montecasino.
Other finalists for the Award included Pieter de Villiers, founder and CEO of Clickatell; Stafford Masie, founder of Thumbzup; and Wesley Lynch, CEO and founder of Realmdigital.
In their citation for the IT Personality co-winners, the judges noted the common link between Dwolatzky and Nyati - both have a passion for nurturing young talent and emerging entrepreneurs, and have made that a core principle guiding their careers.
"This is the first time that I've come to a casino and actually won something," joked Dwolatzky on accepting the award. "The key thing I'd want to state is that working for Wits University has been the best in my life. They have always allowed me to experiment and I've always got fantastic support from colleagues."
Nyati said there were many people who have helped him get this recognition. "Our mission at Microsoft is to enable individuals and businesses to realise their full potential; and if you are a leader in such an organisation, there is no room to sit on the fence but to take a stand to improve society."
The IT Personality of the Year Award is now in its 35th year. Past winners include Alan Knott-Craig, Andile Ngcaba, Mark Shuttleworth, Asher Bohbot and, last year's winner Rob Stokes, founder and CEO of Quirk. The award is presented by the IITPSA in association with ITWeb, GIBS and Gartner Africa.
To read about the judges' citations, click here.