SA's solar cars head to world challenge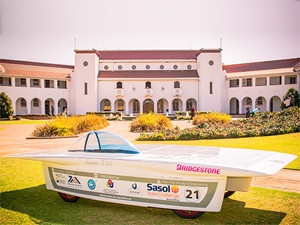 Two teams from South African universities are set to take their solar-powered cars to participate at the Bridgestone World Solar Challenge from 18 to 25 October in Australia.
The solar-powered cars - the Hulamin and Sirius X25 - were created by the University of KwaZulu-Natal (UKZN) and North-West University (NWU) respectively.
The Bridgestone World Solar Challenge is a biennial solar-powered car race which covers 3 021km through the Australian Outback, from Darwin, Northern Territory to Adelaide, South Australia. There are 47 teams participating in the 2015 race.
The race attracts teams from around the world, mostly from universities or corporations, but some from high schools. The race has a 28-year history spanning 12 races, with the inaugural event taking place in 1987.
The Hulamin, designed by the UKZN's School of Engineering, measures five metres long, weighs less than 250kg, and is propelled by six square metres of super-high-efficiency silicon solar panels which harvest energy from the sun. It boasts a top speed of 115km an hour and the developers say the car paves the way for green energy in the future.
Designed by a multi-disciplinary team of students from NWU's Faculty of Engineering under the guidance of team project manager professor Albert Helberg, the Sirius X25 weighs 208kg and is 4.5 metres long. While it typically travels at 80km/h on level terrain, it can reach speeds of 140km/h.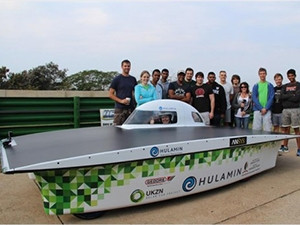 In 2012, an NWU team competed in the Sasol Solar Challenge for the first time and tied first with a Japanese team from Tokai University. Last year, the NWU team came fourth overall at the challenge and was given the award for the furthest distance travelled by a South African team per day.
The two universities are among five that in 2012 each received R330 000 from the South African government's Technology Innovation Agency (TIA) to develop vehicles and compete in the Sasol Solar Challenge. In 2014, TIA funded six local universities with R6 million to develop solar-powered cars.