It's perfectly okay to fail
Start-up enthusiast Martin Bjergegaard believes in failing... and failing quickly. He was in SA recently to promote his book and share his insights into the start-up mentality.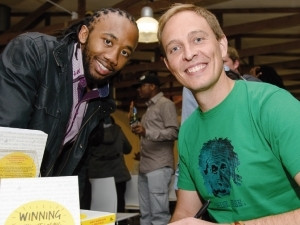 There's a seldom-debated conundrum in the drive to create more small businesses in SA. We need to get more businesses surviving through their first three to five years, says the one side. The counter argument is that it's better to fail, and fail quickly, rather than labouring on.
The rider, of course, is that this failure should produce valuable lessons about pitfalls to avoid the next time around.
Martin Bjergegaard, co-founder of the Startup Bootcamp accelerator programme, is firmly in the second school of thought.
The affable Dane was in SA recently to promote the book he co-authored with Jordan Milne - Winning Without Losing - with his key message being: it's okay to fail. In fact, it's good to fail.
A constant throughout Bjergegaard's story is that of discontent. He started his first business when he was 18, launching five companies in the next five years - none of which have survived.
Without getting down on himself, he then left commerce to go study, after which he used his 15 months at management consultancy McKinsey & Co. to further hone his skills. This was followed by a similar period working with Claus Meyer, co-founder of renowned two-Michelin-star restaurant Noma, and a food empire.
Driving force
"That was a lot of fun and I found the ultimate role model - a very different one from the McKinsey partner," says Bjergegaard. Despite the enriching work he was doing, he wanted to pursue another business idea. He started up his food delivery business in 2005, which today generates in excess of EUR13 million annually.
All of this background is needed to understand the driving force that has pushed him to keep developing new ideas, with an almost disturbing lack of concern over failing.
The key to repeatedly throwing oneself at business ideas, he says, is to have the process be hypothesis-driven. "You need to test the idea, and do that as quickly as possible. It's all about creating this minimal, viable product and that's something we focus a lot on in Startup Bootcamp.
One of the reasons is that it gives you validation that people care enough about the product to pay for it.

Martin Bjergegaard, Startup Bootcamp
"Even if you don't have all the processes working, you need to put it up to test it to see if people are interested. And if they are, then you can solve the problems later on. Of course, what very often happens is that you find out there's no real interest, or people behave completely differently than expected."
It's far easier to pull the plug on a project that hasn't yet gone too far down the road or consumed too much development work and time, he suggests.
Pretotyping
"It's better to take those small steps, and look to see what you can learn today. And that's what's going on in the start-up community. It's called pretotyping, which is the step that comes before prototyping and is about validating whether there's a real need.
"You also need a great team, and I recommend you get yourself into an accelerator, because giving up some of the equity is definitely going to be worth it in terms of the help you'll get from mentors. It will also be easier to get investors on board. There are so many accelerators, it's become easier to find one you like and one that likes you."
An obvious suggestion is that it's important to try to generate revenue as early on as possible, even if the big giants like Facebook, Google, Twitter and Instagram are examples of successful companies that didn't follow that path.
"One of the reasons is that it gives you validation that people care enough about the product to pay for it."
Many of these principles and lessons are imparted to members who take part in the Startup Bootcamp programme, which has helped launch a multitude of tech start-ups. Bjergegaard says there are no immediate plans to open an African chapter, although that may happen in the next two to three years. The threat to South Africans is that Kenya is as much in the running to be the first African office as Johannesburg or Cape Town.
First published in the September 2013 issue of ITWeb Brainstorm magazine