Review: Asus Transformer Book T100HA: Bang for your buck?
When Asus unveiled their first Transformer Book T100, back in 2013, touch sensitive screens were only reserved for expensive ultrabooks and 2-in-1 devices. However, by opting for a cost-effective Intel Atom processor, the world's fourth largest PC vendor was able to market the device at a much lower retail price. The recently launched, and equally cost-effective, T100HA features a new design, upgraded hardware and connection options. Is it as impressive as its predecessor?
Look and feel: aluminium over plastic
The new Asus T100HA is available in four different colours, but there's more to its design upgrade than colour variety. Where the original T100 was equipped with a rather cheapish looking plastic encasement, the new 1.04 kilogram weighing model features an aluminium exterior. As a result, the device has a more premium look and feel to it and generally comes across as very durable.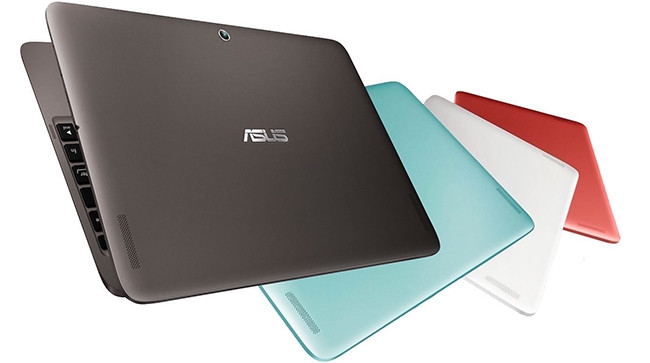 Most of its connectors have been relocated to the right side of the device, with the exception of the new USB 3.1 Type-C port on the left, which offers increased transfer speeds. Not many accessories currently support this new USB-C standard, though.
The T100HA also houses a micro SD-card reader, a micro HDMI and 3.5mm audio jack to connect it to external speakers or a headphone. A regular USB 2.0 connector can only be found on the dock however, which is remarkable to say the least since the first T100 featured a USB 3.0 port in that very same dock. Other changes include a 5-megapixel rear camera and speakers on the back of the screen.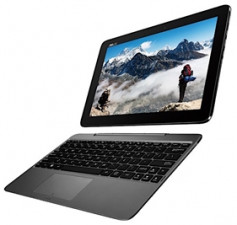 The dock/keyboard as featured on the first generation T100 was far from flawless - its hinge proved too small resulting in a somewhat unstable and generally uncomfortable typing experience. You'd expect Asus to have learned from past mistakes, but that's not entirely the case. The individual keys are too small to facilitate fast and accurate typing, unless you're the owner of very lean digits. The hinge itself has seen some improvement. Like with the previously reviewed T300 Chi, Asus wisely implemented strong magnets that make it easy to separate the screen from the dock without having to press a button. The touchpad faces the same problem as the keyboard, however, since it is very small and not particularly well suited for precision or anybody with relatively large fingers.
Hardware and performance: light tasks only
Under the bonnet, the T100HA houses a quad core Intel Atom "Cherry Trail" x5-Z8500 SoC running on a base frequency of 1.44GHz and burst speed of 2.24GHz, as well as 2GB of DDR3 RAM. A higher priced 4GB version should also be available, according to Asus SA.
Unfortunately, the on-board memory isn't expandable, making the device anything but future proof. In order to keep the retail price as low as possible, the entry-level version of the T100HA only features 32GB of eMMC solid-state storage. If you take into account that the pre-installed Windows 10 Home edition takes up a minimum of 16GB, that doesn't leave much space for personal data. As a result, business users who work with large files, or a lot of smaller ones, will definitely be better off with the higher priced 64GB or 128GB model.
Because the T100HA features a micro SD-card slot, the lack of space can partially be mitigated by supplying the device with a separately sold memory card.
The device doesn't support 801.11ac WiFi networks, again to keep the retail price as low as possible.
In order to get a solid indication of the Asus T100HA's processing power, I ran three separate benchmarks. Test results were then compared to those of other similar sized 2-in-1 devices, albeit with different price points and varying technical specifications.
PCMark 8, which measures general system performance, placed the T100HA in fourth place. So did Cinebench R15, a test that puts more emphasis on raw CPU speed. 3DMark shows similar results, with the T100HA being a middle-of-the-road performer. To put things into perspective, all the devices that outperform the T100HA have a higher retail price. In the end, the T100HA is no highflyer and easily succumbs when confronted with anything but light office tasks like browsing, mailing and handling simple documents.

For a more detailed summary of all specifications, click here.
Screen: low res, high quality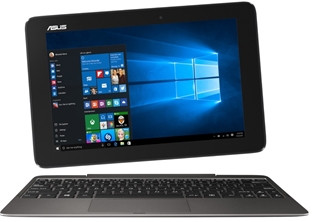 The first generation Asus Transformer Book T100 featured a 10-inch screen able to display 1366 x 768 pixels. With the new T100HA, the resolution has been scaled down to 1280 x 800 to keep the price low and in theory positively influence battery life. Business users who have been spoiled by extremely high resolution displays, as seen on many modern-day phones and tablets, will definitely have to get used to text and icons not looking as spiffy. Nevertheless, image quality is otherwise excellent because of the implemented IPS display technology and laminated coating to minimise pesky light reflections. Even in direct sunlight, screen content is easy to read as a result of the T100HA's excellent brightness (404 cd/m2) and outstanding contrast (1093:1) levels, which match the more expensive, high-end 2-in-1 devices from competing brands using the same screen type.
To conclude my screen quality measurements, I used a colorimeter in order to find out how accurately the T100HA manages to display colours. I have to admit that my expectations weren't very high from a 2-in-1 device with a relatively low price tag. But I was pleasantly surprised to find out that colour reproduction is more than acceptable and couldn't detect extreme deviations. Asus wisely chose to keep resolution low without sacrificing on brightness, contrast and accurate reproduction of colours.
Battery life: very impressive
The relatively low screen resolution comes with its advantages. Since there are less pixels to supply with light, ergo energy, this should theoretically have a positive effect on battery life. In addition, the internal hardware doesn't have to cope with large amounts of pixels to render, again resulting in lower energy consumption. On their website, Asus even claims that the T100HA should last up to a whopping 14 hours for video playback.
In order to test that claim, I ran my usual set of battery draining tests to see how long the T100HA would actually last on a full charge in real-life. Screen brightness has been normalised to 180 cd/m2 to keep things honest across all devices.
In all fairness, Asus' claim wasn't far from the truth. According to my browser test, the T100HA manages to keep working for a massive 11 hours and 30 minutes. Since that doesn't include a small portion of idle time on the part of the user, and therefore the system itself, the device is calculated to run for an incredible 13 hours straight. Only the Dell Venue 11 Pro lasts just a bit longer, but also comes at a much higher retail price of R15 540. The second test, which continuously plays 1080p video fragments shows similar results, with the T100HA ending up second place (11 hours and 55 minutes), just minutes behind the Venue 11 Pro (12 hours).
Due to its amazing battery life, the Asus T100HA is the perfect 2-in-1 for business users that are frequently on the road, but unable to recharge on the go.
Final verdict
With the T100HA, Asus has clearly targeted a very specific group of users, namely those that don't require a powerful device for their day-to-day office tasks, but find long battery life more important, and need to keep an eye on budget as well.
It features a nice metal design, incredible battery life, good screen brightness, vivid contrast and accurate colour reproduction. Screen resolution isn't very high, but not everybody needs that to do their business related tasks. Also, the device shouldn't be used for anything but light activities like browsing, mail and handling simple documents or spreadsheets. The keyboard and touchpad aren't as comfortable as you might come to expect, but are still more than acceptable for most. Also, storage space proved very limited on the entry-level model and the fact that its RAM is unexpandable doesn't make it very future proof.
Ultimately, the relatively cheap T100HA 2-in-1 simply isn't the best choice for everyone. It is, however, an ideal candidate for those seeking extremely long battery life at an affordable price.