MTN Business pulls in partners to disrupt market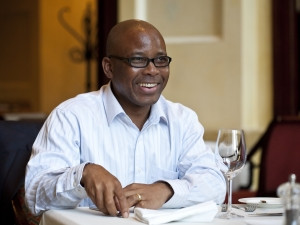 MTN Business has come up with a new blueprint for partnerships in the enterprise space, with the launch of its new partner programme.
The initiative was unveiled at MTN Business' inaugural Partnership Summit in Johannesburg yesterday, as part of its strategy to become the business ICT partner of choice.
"MTN is on a transformative journey and sees partnerships as critical to its success. Historically, MTN has engaged with partners ad hoc, but what we are trying to do now is create a structured programme to drive innovation, drive partnering, drive peer-to-peer networking, etc," Johannes Kanis, MTN Business GM of partnerships, told ITWeb on the side-lines of the summit.
MTN SA CEO Mteto Nyati told ITWeb the main aim of the new programme is to make it easy for partners to do business with MTN and also to ensure the telco remains relevant and grows its business in an evolving digital world.
"In our enterprise business we did not have a programme that made sure that in each geography where we are operating, we have got a consistent way of partnering with companies. So the partnership programme will make sure there is consistency across the group, and instead of reinventing the wheel every time, we now have templates that we can use that can facilitate the signing of those agreements as soon as possible," Nyati says.
Kanis says that in the past, MTN has mainly focused on building its own products and solutions, which can take a long time to get to market.
"We are trying to create an agile framework that allows us to move much quicker and in doing so create opportunities. I've already had some incredible discussions today with partners saying we have got this idea, we want to leverage the power of MTN brand, how do we work together? And that is ultimately the goal."
Nyati says the idea also came from the realisation that for any company in the telecoms space to be relevant, it needs to find a way of working with others to bring interesting solutions from partners to customers.
Target partners
MTN is targeting a broad range of industry players, from up-and-coming entrepreneurs and independent software vendors, to established ICT solution providers. The programme offers funding, discounts, incentives, sales support, training, referral fees and IP revenues structured within a three-tiered partner model.
It gives partners the opportunity to leverage the MTN brand to expand their reach, while MTN is able to deliver a broader range of high value, integrated ICT products and solutions.
"It's a blueprint and also a set of agreements that you can take off the shelf and just sign somebody up instead of discussing for three or four months before you go to market. It also helps us to go to market that much quicker," adds Nyati.
He says MTN's existing partners have been very involved in the creation of this partner programme. For now, the programme is limited to MTN's enterprise business but he says that in the future, it will be looking at expanding to the consumer side.
Filling the gaps
Nyati says the areas MTN is looking for partners are segments where "as a company we are not doing well - so if we were to partner with a particular company within those segments it would help us to gain share in those segments".
"It's not like we are just signing up anybody; we are signing up companies that add something to what we already have."
He says MTN Business is also looking at high growth and high value segments for more collaboration.
"If you look at our business today, we are doing very well in the prepaid business. Where we have been struggling in the past is in the postpaid, the contract space. So people who are targeting the higher LSM space, they would be companies that appeal to us."
Kanis says it's important to address customer needs but driving revenue growth for MTN and its partners is a significant factor as well.
"Ultimately, you create a win-win because you create a platform for a partner to showcase their capability and innovation, and as part of that we address some of the needs our customers have. We are therefore getting satisfied customers and a much better portfolio of solutions in the market."
Partnership rebrand
MTN Business has undertaken an internal restructuring and the division previously called Indirect has now been rebranded as Partnerships, headed by Kanis.
He says the division has a team of 26 people and does "a significant amount of revenue" and is looking to do even more. Under the Partnerships division, there are various categories that deal with specific partner types, including resellers, solution partners (including IOT, M2M, cloud computing, security), carrier services partners and a new MVNO (mobile virtual network operator) segment. This alludes to MTN's plans to get more involved in the MVNO space and Kanis told ITWeb he was already in discussions with a few MVNOs.
"If you look at MVNO, it's a new area of the market. We are hungry for partners to come to us with ideas of how to go out and disrupt the market, and I've had two conversations in the last week just in that regard," he adds.
Partners will also be supported through access to coaching, co-marketing funding and sales incentives. Prospective partners will receive guidance from a partner advisory council led by MTN executives, invitations to specialised industry events and engagement through a dedicated partner hub.
"We previously did not have people who were responsible for managing our relationship with those partners; we now have partner account managers. We also did not have business development managers - people who will sit with the partner and create a business plan that we can execute together - and those are additional investments that we are making," adds Nyati.