Nigeria moving to digital: A safer environment for thriving businesses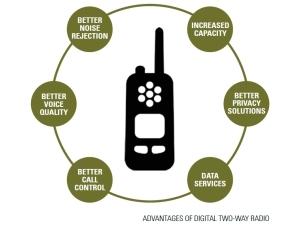 According to the Head of Digital Transformation at World Economic Forum1, there is widespread recognition among leaders in most industries that the role of digital technology is rapidly shifting, from being a driver of marginal efficiency to an enabler of fundamental innovation and disruption. While digital technologies are means for an innovation powered society, there's a more fundamental role of these technologies - improving public safety.
The Middle East and Africa is expected to experience rapid digitisation over the next few years, according to Ryan Darrand, a senior analyst at IHS Markit, as the region's high level of analogue two-way radio users, combined with increasing economic diversification and the requirement for physical safety and security provides strong market drivers for a more robust and capable and therefore digital communications infrastructure.
The PMR (Private Mobile Radio) market has remained strong in the Middle East and Africa, with particular success in cost-optimised digital technologies such as DMR, dPMR and Nexedge in Africa. DMR has been popular across Africa from industrial plants in Kenya to mining and utilities companies in South Africa and continues to grow, with deployments of cost-optimised digital technologies increasing by over 30% in 2016 over the previous year.