Review: Garmin fenix 2 multisport GPS watch
The Garmin fenix 2 multisport GPS watch is the ideal training partner for a multisport athlete.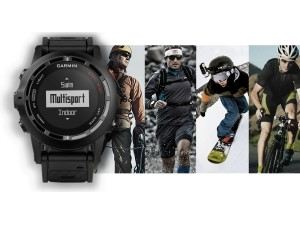 Wearable technology is touted to be the next 'in thing' for tech enthusiasts, with gadgets like smartwatches, wristbands etc all entering the fray. One of the reasons driving of that sector is personal health and fitness, as consumers aim to keep in shape. Garmin, with its fenix 2 multisport GPS watch, has tapped into that market.
I am not a sporty kind of person but reviewing this watch somehow transformed me from that lackadaisical approach in an attempt to stretch the device to its limits. It kept me on my toes and I can safely say the fenix 2 is the ideal multisport athlete's training partner.
Look and feel
When unboxing the fenix 2, it looked rather bulky but upon wearing it, it wasn't much different from my ordinary watch. It's just as light, weighing about 86g. The watch is mostly made of polyurethane, making it ideal for rugged terrains which sportspeople often find themselves in. It also has a curved mineral glass lens.
The other plus is that it is scratch-resistant, waterproof to 50 metres, and has a battery that, Garmin says, lasts 50 hours in GPS mode and up to five weeks in watch mode. The battery is also rechargeable using USB.
The watch, which comes in black, has a round, digital clock face. Encircling the face are five buttons. To make the watch function at capacity, one has to fully understand these buttons, something that I found rather vexing at first. The main reason for this is that I am too lazy to read manuals and I am mostly interested in figuring out how the device works through trial and error. However, the patient ones can just find out all they need about these buttons in the manual.
Cross training capabilities
According to Garmin, the original fenix focused on navigation and tracking functionality, and the second generation, fenix 2, continues to aid the explorer, adding multisport and cross-training capabilities.
So whether users are running, climbing, cycling, hiking or swimming, fenix 2 provides real-time feedback on their progress and helps them achieve their training goals. With added advanced features like running dynamics, the watch can coach users to become more efficient runners.
As someone who isn't a fitness freak, I attempted to do some workouts using the fenix 2 and I somehow got some satisfaction from the calories I burnt under the watchful eye of this watch. The only app that I have by default for such activities is the 'Walking Mate' app on my S4 which counts all the steps that I make throughout the day. However, with the fenix 2, I had to shift a gear up.
I will come back to the S4 and fenix 2 later.
Running dynamics
Garmin also points out that the fenix 2 is the first Garmin wrist-worn device to include advanced running and fitness features in the rugged form factor of an ABC watch.
[REVIEW]The fenix 2 also incorporates advanced running dynamics with the new HRM-Run heart rate monitor, which provides feedback on running form by measuring cadence, vertical oscillation and ground contact time.
With the Virtual Partner feature, users can set time, distance or speed goals and then push themselves to compete against their Virtual Partner. With the built-in accelerometer, fenix 2 users can even track their distance and pace indoors without any additional accessories like a footpod.
It can also send runners' data to the Garmin online community, Garmin Connect, without being connected to a computer. It can transfer the data through the Garmin Connect Mobile app on their compatible smartphone. This allows a user to easily track progress over time, and with LiveTrack, they can share real-time workouts with friends and family through email or social media. This provides peace of mind, especially if training alone.
The fenix 2 also comes equipped with a high-sensitivity GPS receiver plus an altimeter, barometer and three-axis compass. It includes a comprehensive navigational toolset that allows users to plan trips and create routes, record waypoints, points of interest and record GPS breadcrumb trails on the move (tracklogs).
Biggest let-down
Back to the Samsung Galaxy S4; the biggest disappointment that I had with the fenix 2 is that it is not compatible with Android devices though iPhone users can do so. It would have been nice to also connect the watch with my smartphone.
For someone who is not really a fitness fanatic, the fenix 2's price may also be a turn-off for the watch, which can set you back a cool R5 799, while the Performer Bundle with HRM-Run retails for R6 499.
That said, the fenix 2 is a gadget for those who are serious about training - think Olympians etc.