Slight improvement in maths, science matric results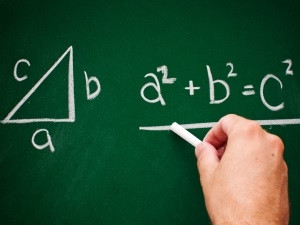 The drop in the overall matric pass rate of the class of 2015 from 75.8% in 2014 to 70.7% in 2015 did not hinder the mathematics and physical science pass results, which saw a slight improvement.
On Tuesday night, Basic Education minister Angie Motshekga announced an increase in the number of learners who passed maths and physical science in the National Senior Certificate (NSC) final exams.
Motshekga said the number of learners who passed maths increased from 120 523 in 2014 to 129 481 in 2015, which is a 7.4% surge; while learners that passed physical science increased from 103 348 in 2014 to 113 121 in 2015, a jump of 9.5%.
The department has not disclosed the number of learners that wrote maths and science or the specific pass rates for those subjects.
Education activist and founder of Partners4Possibility (PfP), Louise Van Rhyn, says it's great to see more children passing these subjects [maths and science], but "the reality is that it is still only a small percentage of overall learners who pass these subjects".
"We should take into account that approximately 1.2 million learners entered grade 1 more than 12 years ago. Only 10% of them have passed maths and science. We are failing our children," she says.
"Last year, only 23% of all matrics achieved more than 30% in mathematics. We should aim for 80% of all matrics to pass maths with more than 50%. We are a long way from this."
Moira de Roche, MD of e-learning company Aligned4Learning, also notes the increase in the number of learners who passed maths and science is encouraging, but she questions if the standards are as high as in previous years.
"It would be good to be able to drill down into the numbers. Of the passes, what was the average mark? If most of them got less than 70%, then it might not make any difference," she says.
Future of ICT
According to Van Rhyn, it's very important for children to pass maths and science in order to access any kind of tertiary education, but the fact that so few of these learners pass these subjects is a challenge for the country.
To address this, Van Rhyn says learner development needs to start at the foundation level of a child's education.
"We have to do so much remedial work because most children did not get good foundational knowledge in the foundation phases and will therefore always struggle with these subjects in the higher grades," she states.
"It is very difficult to encourage learners to do these subjects when they don't have the right foundational skills," she says.
De Roche agrees and says there should be far more initiatives aimed at getting students interested in maths and science, and the careers they enable.
Since all universities require matric maths as a prerequisite to doing an IT-related degree, it is essential for a career in tech, and therefore building the country's ICT sector, she says.
"We might want to take some lessons from Germany. You can only start an IT company if you have a degree, but to work in IT you can do an apprenticeship. They have 10 000 apprentices at present. These apprenticeships are much more like the old model, so our internships or learnerships are not really equivalent," says De Roche.
Record numbers
According to Motshekga, this year the department recorded the highest enrolment of grade 12 learners in the history of Basic Education, with 799 306 matric learners having sat down to write the NSC final exams.
Of those learners who wrote, 455 825 candidates passed the 2015 NSC exams, which represents an overall pass rate of 70.7%, down from 75.8% achieved in 2014, she says.
The three biggest rural provinces in SA, namely KwaZulu-Natal, Eastern Cape and Limpopo, contributed to the decline in the overall matric results. The three provinces contributed to 9% of the drop in the matric pass rate, according to Motshekga.
"Between KZN, Limpopo and the Eastern Cape that's where things went wrong and that's what we need to go back to. The five top provinces did extremely well... but the biggest provinces did dismally and we are committing that we will go there," she states.
Van Rhyn says there should be more concern that the country's provinces (where the majority of learners are based) have such low pass rates. "Our future is at stake," she says.
"As we have seen over the last five years, business leaders can make a massive contribution in under-resourced schools when they are willing to contribute their knowledge, skills and experience.
"We have 25 000 schools in South Africa. Of these, 5 000 are well resourced and produce great results. The other 20 000 schools need the support of business leaders and other citizens who can support the educators and learners at the schools," she notes.