Free WiFi for rugby fans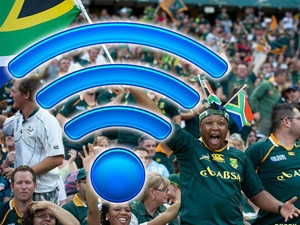 Spectators at tomorrow's rugby test between the Springboks and New Zealand, at Ellis Park stadium, can expect more than fierce rugby action - all main stand spectators will have access to free WiFi.
According to a statement, the Golden Lions rugby union has partnered with WirelessG (G-Connect) to provide WiFi connectivity during the game in what it calls the "first public WiFi-enabled stadium hotspot in SA".
Carel van der Merwe, CEO of WirelessG, says the new G-Connect WiFi innovation will not only provide connectivity relief in high-congestion sport stadiums, that have become unbearable for South African mobile and broadband users, but will change the way real-time sport entertainment is offered in the country.
"Spectators will soon be able to watch replays, listen to referee decisions and expert comments. All the excitement and energy inherent in a live entertainment environment such as this weekend's Springbok Test will be disseminated via social media instantly from thousands of different angles."
WirelessG and Ruckus Wireless have teamed up to combine their speciality offerings and deploy the G-Connect WiFi hotspot at Ellis Park, with the possibility of expanding the initiative to various stadiums throughout SA, says the statement. "The WiFi network design is a first for SA in terms of density, size and capacity. Its design facilitates a 10 Gigabits per second network capacity, which will be required for content-rich onsite broadcasting to mobile devices in the nearby future."
WirelessG says the deployment is unique in the highly-scientific way in which various technologies throughout the network are combined to commercialise and facilitate the capacity requirements of the high-density site. The G-Connect hotspot in Ellis Park is also capable of facilitating WiFi offloading to mobile operators to relieve 3G and GSM in-stadium congestion during high-density events.
Spectators wanting to use the service tomorrow will need to enable WiFi on their devices, connect to the WiFi network named "G-Connect" and open their Internet browsers. A landing page interface will then be introduced from which the free G-Connect WiFi service can be accessed.